What Do You Mean By Demat And Trading In Share Market?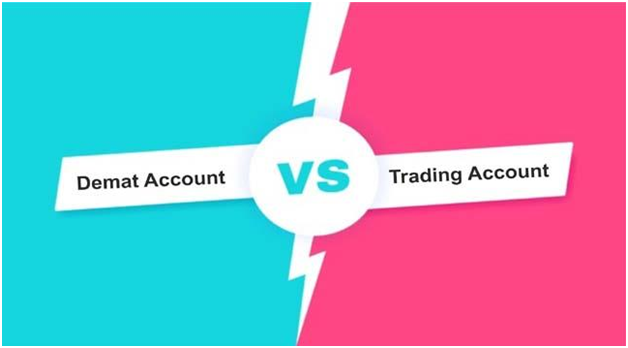 If you wish to begin investing in the Indian stock market, having a demat and trading account is a must. Many millennials have adopted discount brokers as their primary brokers. Discount brokers offer a very easy way to open a demat and trading account.
Before understanding the difference between a demat and a trading account let us start by understanding the following details;
Demat Account Meaning
A demat account works similarly to a savings account. Just like a savings account stores your funds, a demat account helps you to store financial securities. When you place a buy order on the exchange your demat account is credited with shares. And shares get debited once you place a sell order.
Importance of Demat Account
A demat account keeps the financial securities safe and secure. A single demat account can store all the financial instruments including currency, commodities, capital market instruments, and more.
Trading Account Meaning
A trading account is used to buy and sell securities from the exchange. It works as a link between your demat and bank account. Once your demat account is opened, to buy and sell securities you would require a trading account.
Importance of Trading Account
It is directly connected to various market exchange servers. Including Multi commodity exchange (MCX), National Stock Exchange (NSE), and Bombay Stock Exchange BSE). This connection between the servers allows investors to trade as per live market price fluctuation.
Major differences between demat and trading account
These differences between demat and trading account will help you understand more about both the account:
Fundamental difference
The basic difference is that a demat account is used to hold the securities and the trading account is used to buy and sell those securities.
Nature
Demat account works similarly to a savings account. Just like money is credited and debited from a savings account, financial securities are debited and credited from a demat account. Whereas a trading account works as a current bank account.
Role
Both of these accounts are crucial for share trading and have different roles. Whenever an investor decides to buy or sell shares the money is debited from the bank account and the shares are deposited into a demat account. This process is done via a trading account.
In the sell-side scenario, shares are debited from a demat account and the realized amount is credited back. Then the withdrawable amount can be transferred back into the bank account.
Account Opening Procedure
Demat Account opening Process
Step 1: Selecting a depository participant is the first step. A depository participant is nothing but an agent for a depository that acts as a mediator. You can find the list of depositories on Central Depository Services (India) Ltd and National Securities Depository Ltd's website.
Step 2: The depository participant will provide you an account opening form. Post filling the form you are supposed to submit the required documents including your address proof, income proof, and identity proof.
Step 3: After your documents are verified an agreement is made by the DP which includes the charges-related information. The agreement has to be signed by you.
Step 4: After the agreement is made and signed by you. You are good to go! You will receive a unique demat account number along with log-in credentials of the trading portal. With the help of those credentials, you can begin trading. 
Trading Account Opening Process
Step 1: Choose the desired broker after comparing the brokerage charges and annual maintenance charges.
Step 2: An account opening form will be provided to you. Along with the filled form you will have to provide your KYC documents and income statements.
Step 3: Post verifications of the documents, you will receive your trading account details and you are all set to trade.
This is all the information you require to begin trading in the Indian Stock Market.