Things to Keep in Mind When Using Tally to Manage Multiple Branches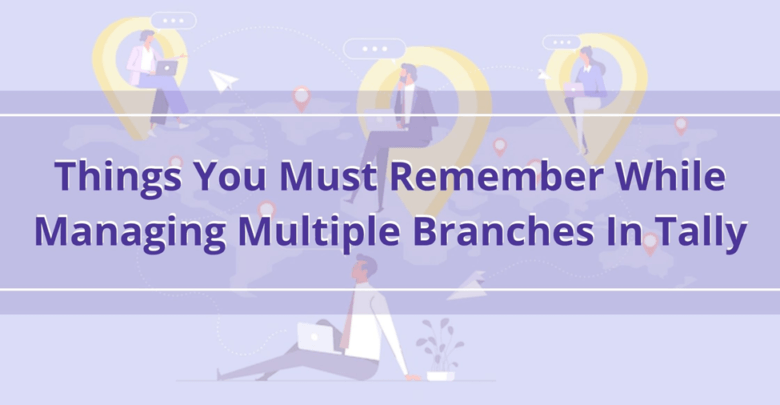 Tally ERP has become an important aspect of today's organizations. When working with data pertaining to purchases, sales, revenues, etc. most businesses prefer Tally over other accounting software.
As a company grows, so do its needs, making it difficult for a single piece of software to keep up. Even though Tally cannot handle all of the essentials, it meets the greatest number of requirements.
Why is Tally on Cloud technology important for Tally users?
Tally has a solution for all as every company operates differently. Every industry is distinct, and each firm requires distinctive software since each has different needs. However, Tally also has the remarkable feature of robustness. Tally on Cloud accounting software is the best component of this Tally. It is compatible with any operating system, including Tally on Mac.
Why do companies with multiple branches require Tally on Cloud?
Over time, companies continue to expand. The demand for software rises as a result of the fact that a small business that one person founded might eventually grow into a massive empire.  With the help of Tally on Cloud, multiple users may access Tally based VM from anywhere in the world and operate Tally applications remotely on any device. Branch offices can synchronize their data across multiple devices with the feature provided by Tally on Cloud.
The top 5 reasons to consider Tally on Cloud for multiple branches are because of its significant advantages.
Communicate Remotely :
To store, share, and access tally accounting software from distant locations, Tally on Cloud provides connectivity between people in various locations and collaboration with Tally users in multiple branches. All of the team members work together more effectively as a result.
Reliable storage :
Tally on Cloud offers improved storage due to the effectiveness of cloud technology, enabling the secure storage of all documents, applications, and other resources from different locations.
Enhanced Security :
Tally on Cloud provides a security structure to protect all of your data and drives from malicious practices. Your Tally cloud accounting system won't provide you with any defaults when it comes to the protection of your data, even if it is managed remotely.
Flexibility :
Tally accounting software is now highly portable and usable from any location and from any device due to cloud computing.
Extremely affordable :
Tally on Cloud reduces much of your hardware and software installation and other equipment expenditures since everything is managed virtually through Tally online. So Tally on Cloud optimizes and improves the efficiency of all your hardware management and other restrictions.
Why has the work-from-home culture evolved Tally on Cloud?
The use of cloud technology has grown increasingly important as a result of the growing work-from-home culture around the world. Businesses use a variety of virtual technology platforms like Tally on Cloud to enable remote operations from different locations.
Conclusion:
These are numerous features that make it smoother for all organizations to maintain their Tally ERP 9 accounting software online due to cloud technology and Tally on Cloud. As a result, we urge you to use Tally on Cloud to use your accounting software and make Tally online more productive.
To save on unnecessary expenditure or get the best Tally on Cloud prices visit Tallycloudhub Today. You can even try before you buy – Register for Tally on Cloud demo.