OpenSea NFT Marketplace: How does it work?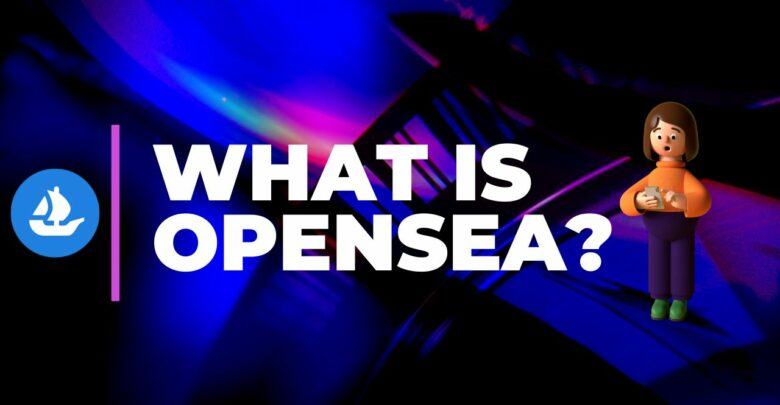 When it comes to making, selling, and buying NFTs, a platform called OpenSea is your best bet. One of the largest NFT trading platforms, having over 1.5 million members, as reported by Dune Analytics. OpenSea makes it simple for users to exchange NFTs, do NFT searches, browse the NFT ecosystem, and investigate the provenance of particular NFTs. It facilitates the purchase and selling of NFTs by providing an intuitive interface for users.
OpenSea gives freedom to sell NFT freely
OpenSea's meteoric rise to the top of the decentralized Internet market for NFTs can be attributed in large part to the flexibility of freely selling. OpenSea is an NFT trading platform that operates without a central authority. OpenSea is a digital marketplace where users may buy, sell, and mint NFTs, similar to eBay, Etsy, and Amazon, except that all products offered are one-of-a-kind digital treasures. Artwork NFTs, PFP collection NFTs, ENS domain name NFTs, metaverse digital land NFTs, video game item NFTs, and The DAO membership NFTs are all available on OpenSea.
Helps to sell NFT in secondary market
Users of OpenSea can trade NFTs with one another in a secondary market and create their own NFT collections to sell in a primary market. The abundance of NFTs on OpenSea is another factor contributing to the market's success. In OpenSea, producers may quickly and simply set up their own markets to begin selling NFTs, generating cash, and conducting NFT drops to their followers, accounting for the vast majority of NFT sales. To facilitate transactions between artists and collectors, OpenSea has established NFT markets.
A portal to Cross-Chain Market
OpenSea has developed into a multi-chain exchange, with NFTs tradable across the Polygon, Solana, and Klatyn networks. Notably, OpenSea gives everyone access to a worldwide market for trading NFTs, but it doesn't take physical possession of anything that's offered for sale. You may already be aware that OpenSea is a decentralized platform where NFTs may be bought and sold. You may purchase and sell a wide range of different kinds of digital assets on OpenSea, since it is the first and largest NFT Marketplace.
A portal for artists to use their skills to make money
The NFT Marketplace launched in December 2017 and serves as a central hub for the creation, trading, and exploration of NFTs. Since its inception, it has been the preeminent NFT marketplace online. The platform allows digital artists and content providers to mint NFTs, create specialized marketplaces and collections of NFTs, charge for their tokens, and host auctions to dispose of their tokens. OpenSea allows anybody to create their own decentralized exchanges and issue their own NFTs, which can then be traded freely among users.
How does it work?
In order to connect with and utilize OpenSea, you will need an Ethereum wallet, as it is built on the Ethereum blockchain. MetaMask, Coinbase, Trust Wallet, MyEtherWallet, and many more are just some of the wallets that work with this.
Also, it works with other blockchains besides Ethereum (the primary one), such Polygon (MATIC) and Klaytn (KLAY). Further, you may choose from over 200 different payment methods, including stablecoins. To some extent, cryptocurrencies are involved in every type of payment system.
To prevent any type of fraud on the network, creators are able to set the price of their tokens through the use of smart contracts. It is easy how to sell NFT on Opensea.
OpenSea verifies ownership of digital treasures using the Ethereum NFT standards ERC-721 and ERC-1155, ensuring that no one wrongfully claims possession of an item.
While exchanges play a role in facilitating the sale and purchase of NFTs, actual exchanges take place between buyers and sellers over the Ethereum network.
OpenSea has launched the Polygon blockchain to permit faster and cheaper transactions than those possible on Ethereum, which might incur exorbitant transaction costs.
How much does OpenSea cost?
Using Nanopass OpenSea, everyone may launch their own exchange, mint their own NFTs, and trade or sell them without incurring any fees. To aid in the administration of the market, the platform only takes a 2.5% fee on all completed sales. OpenSea is unique among NFT marketplaces because of its cheap fee structure.
You'll just have to fork over the standard transaction costs associated with using the network. The costs on Polygon and other blockchains aren't as expensive as they are on Ethereum, so this should only be an issue if you utilize the Ethereum network.
How secure is OpenSea?
OpenSea has been breached on several occasions, as was just described. In spite of this, it is still the most trustworthy NFT market around. Since this is being carried out via smart contracts, it is protected from most forms of human interference, but you should still take precautions to protect your account.
It is advised that you take further precautions to protect your account, such as using two-factor authentication. But remember that in the case of decentralized networks, it is typically the user who is responsible for security, so tread carefully.
Conclusion
If you're just getting started with NFTs and want to do it on the cheap and with minimal hassle, OpenSea is a great location to learn the ropes. Is Opensea Down? Even if the market is volatile and gas prices are high, people still utilize the site and make transactions. It is setting itself up to become a platform for a multi-chain world, which puts it in a prime position to become the market leader in its field.