Job Roles That Are On Offer After The Game Design Course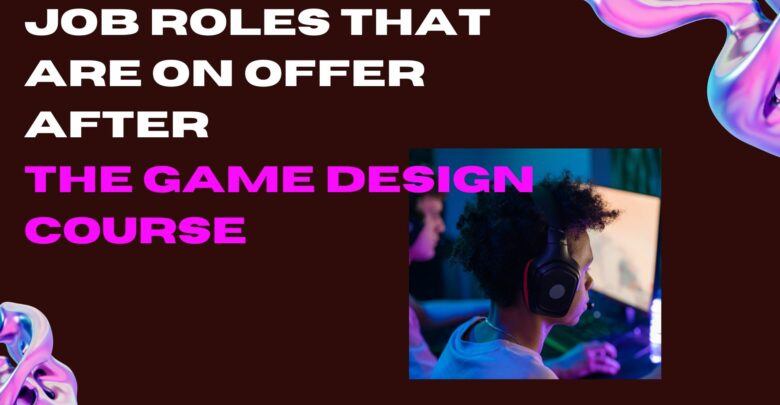 Game Design is a specialized art that is an amalgamation of technical ability and artistic vision and is concerned with conceptualizing game architecture, character interactions, plots, challenges, puzzles and game environments either for entertainment or exercise or experimentation or for educational purposes. Game designing involves programming, computer science, and graphic design besides an understanding of the market, target audience, their preferences & psychology and socio-cultural factors etc. Designers collaborate with level designers, game writers, VFX and Sound Designers, system designers, and interface designers etc. to create an attention-grabbing engaging game such that it is available on multiple platforms, can be easily maintained and updated with evolving technologies like AI ML, Augmented reality etc. and ensure revenue.
Job Roles
Being multifaceted, Game Design Course offers prospects in multiple roles. Few of vast array of opportunities are listed as under:
Application Developer:
Basis the client's requirements, Application Developer, ensures that computers perform the desired specific task. He interprets software requirements and develops workable programming codes for business use. Usually, he works within a specific development field, like office suites or graphics software or accounting software or mobile phone applications. Furthermore, he must possess comprehensive knowledge about at least one computer language.
Multimedia Specialists:
He develops multimedia applications and products utilizing his creative and technical skills along with amalgamating graphics, text, digital animation, photography, video, audio and virtual reality etc. These are then utilized on a range of platforms like gaming devices, PCs, mobile phones, TVs etc. Furthermore, he is concerned with testing as well as fixing any technical issues.
Game Animator:
He brings alive the characters, environments & situations etc. utilizing his artistic abilities and technologies like 2D, 3D, stop-motion etc. Animator collaborates with Sketch Artists, Graphic Artists, Game artists etc. & devises frames utilizing still images,digital or hand-drawn pictures etc. He then arranges them in a sequence to create simulation of movement, thus crafting interactive animations within the game framework.
Game Audio Engineer:
Soundtrack & audio effects plays a primary role in making a game engaging and immersive. The advent of open-ended gaming experience has further acted as a catalyst in enhancing the role of game audio engineer. He understands the essence of the game, the end objective, the target audience as well as the genre etc. and accordingly designs the sound effect to hold the end user's attention.
Game Designer:
He conceptualises ideas, crafts concepts, characters, narratives, mechanics etc. thereby the person responsible for developing a new game. Being responsible for revenue, he collaborates with game artists, programmers, game developers, etc. to create a game that is engaging and offers unsurpassed gaming experience to the end user. He further makes sure that the developed games are available on diverse platforms, can be easily updated and maintained.
VFX artist:
The special effects that mesmerises the end user is the responsibility of VFX artist. He is concerned with manipulating lighting, objects, shadows and digitally generated imagery to bring alive characters, give them superpowers, create a pseudo environment like another planet, create mystical creatures, etc.
Register now in Game Design Course and be on the expressway to success.