IOA Co-Founder, John Ritenour's Humble Beginnings and Entrepreneurial Dreams
IOA Co-Founder, John Ritenour's Humble Beginnings and Entrepreneurial Dreams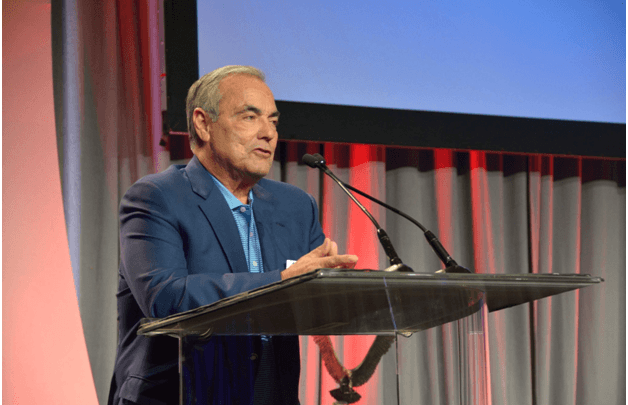 In 1988, John Ritenour co-founded the Insurance Office of Florida with his wife Valli, whom he met during his freshman year of high school. What began as a company with $188,000 revenue in its first year, has grown into Insurance Office of America (IOA), which boasted an impressive $200 million in revenue in 2018. What has not changed is the agency's mission to empower insurance salespeople to be able to work for themselves.
Driven to achieve success from an early age, entrepreneur John Ritenour discovered the power of hard work and dedication, finding that he had a passion and talent for sales when he began work as a door-to-door insurance salesman. What John Ritenour missed, however, was being his own boss, and this issue came to a head when he found the broker he worked for kept changing his commission and never in his favor.
So, in 1988, seasoned insurance salesman John Ritenour bought a book of business from his broker and founded IOA (then IOF). The idea behind IOA was not just to achieve success for himself, but to create a business model for insurance salespeople that offered a new kind of commission structure, one in which the producer gets an equal commission for new sales and renewals.
Currently, John Ritenour holds the Florida General Lines (2-20) and Life and Health (2-18) insurance licenses in Florida as well as many non-resident licenses out of state. He has been awarded Success Magazine's Business Achievement Award and been nominated for the Dynetech/Crummer Entrepreneur of the Year Award. He is proud to have grown IOA from a company with revenue of $188,000 in its first year, to the $200 million of revenue posted in 2018.
With IOA, John Ritenour was also able to combine one of his great loves with his passion for selling insurance. A devoted sports enthusiast, John Ritenour translated that excitement into providing custom-tailored policies that we're able to meet the specific needs of sports teams. Today the company boasts an impressive portfolio of athletic clients, including 20 NBA, NFL, and NHL teams, as well as sponsorship of the first leg of the LPGA. He and IOA excel at creating custom-tailored packages that translate complex insurance needs into seamless and simple coverage. This special skill has made IOA the chosen partner for a wide range of top sports teams, including the Charlotte Hornets, the Jacksonville Jaguars, Orlando Magic, and the Washington Wizards amongst many others.
As he prepares to retire to become a full-time grandfather, John Ritenour continues to be committed to OTA which is now helmed by his son, Heath Ritenour. In the future, he looks forward to taking a larger role in the philanthropic branch of the company, especially with the IOA Corporate 5K. The largest 5K in Florida, the event provides tens of thousands of meals to Central Florida families each year. It was this innovative idea and much hard work that led to IOA expanding beyond Florida and becoming a nationwide agency that now also is a registered broker with Lloyd's of London.