Discover the top school in Jaipur- VSI International School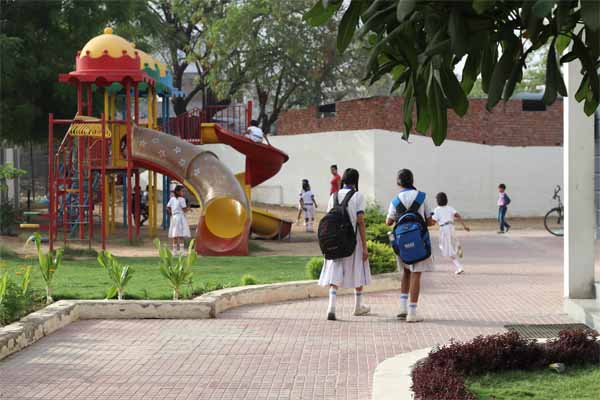 Do you want a school for your child that only gives quality education or only focuses on co-curricular activities? Don't you want both of these features in a school for your child? 
Also CheckOut:
The extensive education system at VSI International School makes it a Top School in Jaipur, Rajasthan. Your child deserves the best, enrol your child in VSI International School today.
The teachers emphasize the overall growth and progress of the students. The school keeping in mind the interests of students provides excellence in education and recreational activities and gives an environment for the child to develop freely.
This school was established in 1979 with a vision to foster intellectual and creative potential in the students. The school has a Mission to ensure the all-round development of each student that becomes a part of this school. The school makes all possible efforts for students to find their interest areas and provide new opportunities.
What makes VSI International School rank amongst the best schools in Jaipur?
As a parent, you would want to find out why a school is best for your child. Find out more about this RBSE English medium school in Jaipur below.
VSI International Sr Sec School has been considered as the Top School in Jaipur for many years now. The teachers understand what students need and what parents want for their kids; hence they always take initiative and plan out the learning experience of students in a way that is both enriching and interesting to them. The Student-centered approach has been the main idea of teaching at VSI International School since its inception. 
The school's education module covers all the subjects of the RBSE curriculum and recreational activities. It has digital smart classrooms designed to facilitate virtual and enhanced learning for students. Students have the freedom to choose the co-curricular activities they love. 
Being an English Medium School in Jaipur, the teachers focus on English communication skills with special English Speaking classes.
The play areas and outdoor fields are the best for inclining students towards sports, and the trainers help students learn the spirit of sportsmanship and excel in their chosen sports area. 
Creative activities like dance, singing, and music, art and craft, allow students to explore their passion and find their creative skills and talent.
Students learn better when they do it by themselves. Practical lessons make it easy for students to remember concepts and their applications. As a Top School in Jaipur, VSI International School, the emphasis is given to practical learning for students of all ages. Even for pre-primary students, teachers transform lessons into activities that help them memorize things quickly. For senior students, Teaching methods like presentations, group activities, practical classes are done in labs.
VSI International Sr Sec School has everything that a parent wants in a school for their child, which makes it the top school in Jaipur for students of all classes. The school was given the 'Emerging School Of The Year' award during the Rajasthan Excellency Awards 2017 by Shri Vasudev Devnani, former Education Minister of Rajasthan.
What does the Top School in Jaipur- VSI International School offer students and parents?
The School administration understands how parents feel the need to ensure their children are always safe and developing in the right way. That is why this top school of Jaipur offers the following facilities for the comfort of parents and students:
Bus conveyance facilities by the school save parents' time in dropping and picking their children from school every day. All bussed have GPRS in them. So, Parents may ensure the safety of their children.
The school authorities understand that security during travel is not enough. As a parent, you would want your child's stay at the school to be safe. For this purpose, the school has security cameras installed in all corners of the school premises. 
Parents always find themselves juggling in giving attention to their child, monitoring his/her progress, and giving the required contribution to their learning. Their other responsibilities leave parents with limited time in hand. The school management takes into account the circumstances of parents and organizes regular parent-teacher meetings. Teachers not only discuss the performance report of the students but also teams up with parents so they can be a part of their child's learning phase. Parents and teachers then plan on how to integrate the best possible actions—another reason why parents have rated VSI International School as the Top School in Jaipur.
The results records have been outstanding for all grades. The school students have turned out as young achievers in all realms of life. 
How to enroll your child in VSI International School?
The school follows simple guidelines for the admission procedure of students. Parents can get admission forms at the school reception. They have to fill out the details in the form, attach a birth certificate photocopy and three passport-size photos of their child with the form. Submit the form, attached requisites, and registration fee at the reception.
Visit the campus of the Top School in Jaipur. To see how they bring excellence for your students or give a call at 0141-2793080 or 9309305656 for more details.