How Is Cloud PBX VoIP Office Phone Making Your Business More Secure And Prosperous?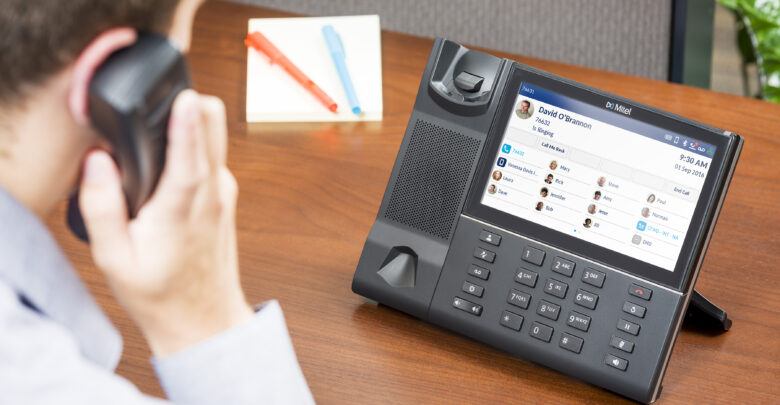 Today's enterprises are accelerated by cloud technology's more nimble and cheaper solutions. As a vital pillar of any business, business communications are also adopting this innovation. Increasing numbers of service providers offer cloud-based voice solutions for enterprises of all sizes. This article will explain the cloud phone system from its definition to its operation. Cloud-based technologies have enabled the development of the VoIP office phone, which enables small businesses to enjoy the benefits of voice-over IP at a significantly reduced cost.
In recent years, cloud-hosted PBX phone systems have gained popularity. Possibility to incorporate a robust phone system with all features and tools including web conferencing and file sharing for business etc. And there is a  need to work on our communication abilities. However, always use VoIP services to make corporate conference calls more efficient and safe.
Before selecting whether a cloud PBX system is ideal for your organization, it is vital to understand what a VoIP business phone system is, how it operates, and its advantages and disadvantages. Numerous companies currently offer business VoIP solutions to numerous small enterprises in the United States. In today's technologically advanced society, VoIP services have replaced the obsolete office phone in widespread use.
How Does a VoIP Office Phone Function?
An IP phone system that is hosted in the cloud is a VoIP phone system that can be accessed via an IP network. It is offered through the Internet and controlled entirely off-site, reducing initial telecommunications equipment expenditures. Deployment and configuration are quick and straightforward with VoIP office phone, relieving businesses of IT expenses.
Advantages of VoIP Office Phone
Cost Savings
Every firm, and especially smaller businesses, desire to reduce operational expenses as much as possible. A cloud phone system is a cost-effective choice because it drastically cuts initial equipment expenses and ongoing maintenance fees. In the majority of cloud phone system setups, IP phones are the only capital expense. Typically, the cloud phone system operates per user, allowing organizations to expand by acquiring additional licenses. The system is always adaptable to your company's expansion. In contrast, with such a price plan, the corporation has greater budgetary predictability and control over its phone system.
Scalability
The scalability of this form of company telephone system is a significant advantage. As your organization expands, your cloud phone system can scale to accommodate the expansion. To scale up with conventional phone systems, additional gear is required. Adding additional users is simple with cloud-based phone services, regardless of whether they work in an office or remotely. One of the best phone services for companies, particularly those experiencing rapid expansion, is a file sharing for business firms with extended features.
Less Maintenance
Cloud phone systems are hosted remotely and managed centrally by phone service providers, which requires minimal customer technical experience and IT personnel for installation and configuration. The consumer is no longer responsible for keeping the system up-to-date, and enterprises enjoy an always-current phone system without devoting budget and resources to its maintenance. The administration of a cloud phone system is significantly simplified if you have an Internet connection, which is quite handy for businesses with many offices. IT administrators can modify user settings via the web interface at any time and from any location.
Mobility and Geographic Adaptability
With a cloud-based PBX VoIP office phone system, the headquarters, branch offices, and teleworkers may be unified, sharing the same features and maintaining business continuity. As long as an Internet connection is accessible, a remote worker's office is wherever they happen. Some service providers of cloud phone systems offer free softphone applications that allow employees to use IP phones solely. Additionally, computers and smartphones can be used as office extensions for making and receiving calls. It enables employees to work from home, on the go, or remotely full-time.