Girlish Lehenga Design and Sharara Dress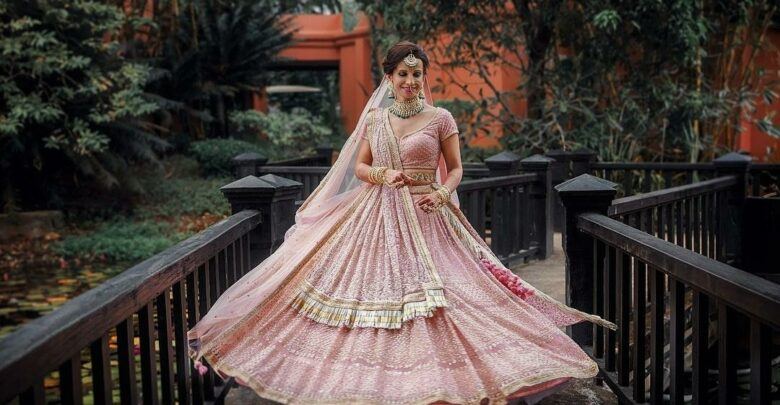 One of the most coveted outfits for weddings and celebrations, lehenga cholis of India are a triumph of cut, craftsmanship, and fabric. Often termed as Ghagra choli in northern and western India, this stunning ensemble includes a long skirt, a choli, and a dupatta. The designs of lehenga choli range from traditional to contemporary. The circular lehenga carries its traditional and voluminous charm and remains an all-time favorite in Indian weddings. While circular designs are favored by brides, the form-hugging mermaid lehenga for its youthful charm is preferred by bridesmaids. Contemporary India is witnessing the widespread acceptance of Indo-Western lehenga in which a long jacket with or without a center slit replaces the choli, giving it a stylish urbane look.
Lehenga Designs
Lehenga choli is an archetypal dress that helps enhance the entire appearance of the one who wears it and offers that regal Indian look. To add glamor to the appearance, there exists an array of lehenga designs. A few of the most popular and new lehenga design 2022 are:
A-line lehenga
Sharara cut lehenga
Straight cut lehenga
Jacket style lehenga
Saree style lehenga
Panelledlehenga
Fishtail lehenga
Broad flared lehenga
A-line Lehenga
This spectacular and modish lehenga is perfect for the ethnic yet stylish look. The uniqueness of this lehenga design is its hemline, which gives it its stylish elegance and creates a flare look. A statement blouse in a voguish design if paired with perfects this girlish lehenga design.
Sharara Cut Lehenga
The stylish sharara cut lehenga dominates the present Indian fashion market. From simple to the designer, there exists a huge variety of styles of designs in this model, which has an elegant palazzo with a loose hem. Statement jewelry tops up this lehenga design.
Straight Cut Lehenga
As the name specifies, the skirt is long and straight in style in a straight-cut lehenga, without any sort of flare. Straight-cut lehenga is one of the most sorted out lehenga designs because of its versatility on every body type. A crop top style designer blouse adds elegance to the straight-cut lehenga.
Jacket Style Lehenga
Though like any other traditional lehenga, the addition of the exquisite jacket adds the oomph factor to the entire couture and personality. This lehenga comes with a long loose jacket, with intricate embroidery work with fine detailing embodied on it, which leaves a sassy impression on others.
Saree Style Lehenga
This design gives the illusion of a saree, but it is actually a lehenga. The illusion of a saree is the result of the draping style of a dupatta which is quite similar to that of a saree. In terms of convenience, it outpasses a saree as it offers the comfort of the lehenga to those who wear it. The flare of this lehenga is the icing on the cake considering this lehenga.
PanelledLehenga
The stylish panels attached towards the end of the flare differentiate this lehenga from others. The panels are designed to be used at the end of the hemline to add volume to the flare simultaneously adding a contrast design for a dazzling look. This lehenga is a perfect fit for any special occasion.
Fishtail Lehenga
The fishtail or mermaid lehenga is a refined and graceful version of the lehenga which is absolutely irresistible. This version of the lehenga suits well for those who love to accentuate their curves. This lehenga looks stunning even without any accessories if paired with a short-halter neck style blouse.
Broad Flared Lehenga
Broad Flared Lehenga is one of the most traditional and regular style lehengas. It is its broad flare and distinguished look that makes this lehenga special, making it difficult to be ignored. Though a wide variety of colors are available, it is the combination of off-white and multiple colors in it that makes it contemporary and trendy. This lehenga looks stunning if coupled with statement jewelry.
Sharara Dress
The stylish Sharara is of Lebanese origin, though its roots are traced to the Hamedan tribe in Yemen. This style reached India with the advent of the Mughal royalty in the 16th century. The women from the Mughal royal families were said to wear Sharara suits and dresses. The specialty of the Sharara Dress is that it is fixed at the waist and runs down freely without any joints. It is fully flared from the waist. It is worn by Indian women mostly during the wedding season. Sharara is often combined with at least one dupatta but may include a second one to be adorned along the shoulders to be worn as a veil. Shararas are quite popular outfits in Bangladesh and Pakistan, constantly undergoing rework and makeovers to pace up with the changes in styles.
Sharara Designs
Unlike lehengas, shararas don't have any set designs or motifs. The textiles used for shararas include silk, cotton, velvet, and chiffon. Though the beadwork and zari embroidery in shararas are often admired by fashion enthusiasts, they are not always associated with shararas. They are often not quite indicative of any specific region or culture. This enhances its acceptance across India during festivities. The outfit has generally been considered rather modern by South Asian standards because it has always been a high fashion favorite and hence includes innovation. In recent runway shows, shararas have made a resurgence, and more and more designers are openly embracing them.