Cloud Gaming India | Cloud Gaming Apk | Cloud Gaming GTA 5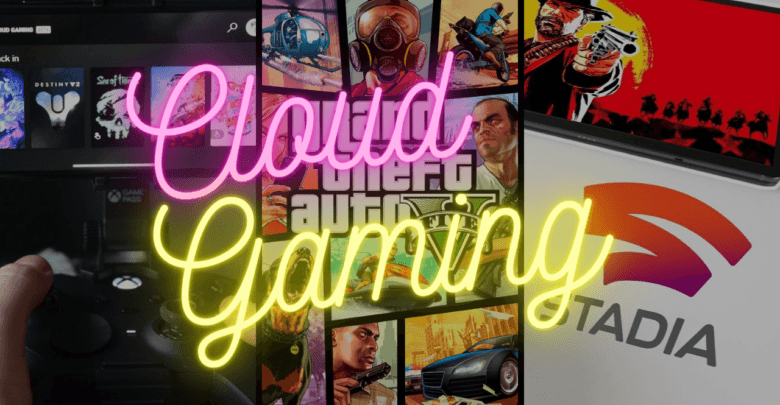 I don't think I need to convince anyone that technology is developing at an extremely fast pace. Hardware and software producers provide us with more and more advanced conditions for playing, and game developers – titles that require such equipment from players to be pleasant, free from inconvenience in the form of lag or low frame rate. In order to be able to play more demanding games or do cloud gaming, we need components that are able to "grasp" what is happening in the game world. To buy high-end components, you have to spend a lot of money.
Their choice depends mainly on our budget, as well as on what games we want to play. For less demanding e-sports titles, such as CS: GO, Valorant, LoL or Fortnite, where resolutions higher than Full HD are not the optimal solution, due to the fact that we want to get the best smoothness, less advanced equipment is enough.
In such situations, the possibilities offered by the present times provide a solution. Gaming in the cloud is gaining popularity – there are several proposals on the market, including Google Stadia, Xbox Cloud Gaming or GeForce NOW.
The computer games market is becoming extremely competitive, and at the same time it is constantly developing technologically. As a result, some users have decided to switch to cloud gaming services. What is it about and which application is worth choosing – xCloud (now known as Xbox Cloud Gaming), Google Stadia, or maybe Geforce NOW?
What do I need for cloud gaming?
Playing in the cloud is a technological masterpiece in many respects. Firstly – you do not need to install games on your hard drive, and secondly – thanks to the video stream, you do not have to invest additional funds in your equipment. Using cloud gaming services reduces investments to the necessary minimum.
In fact, you only need 3 elements to enjoy the possibility of playing the most demanding productions:
a device receiving video streaming (with an installed, dedicated application),
controller (usually a gamepad is enough),
Stable internet connection.
What devices can I play on the cloud?
You can use cloud gaming services not only with an office laptop with an integrated graphics card. More and more players appreciate this type of services run, for example, on smartphones or smart TVs. However, it all depends on the availability of a given service on the selected operating system.
The most popular solutions, such as Xbox Cloud Gaming India, Stadia and Geforce NOW, are chosen thanks to the wide distribution of applications – thanks to them, you can play on a laptop with Windows, Android smartphone, devices with IOS or in a browser.
Why use cloud gaming services?
Thanks to cloud gaming India services, you will save money that you spend on upgrading or expanding your PC. They work on the principle of "Click & Play" (click and play), which also shortens the waiting time for fun. This is a great solution not only for the so-called Sunday players (playing at most a few hours a week), but also more advanced users who need access to the expected hits regardless of the conditions.
Even with a gamepad and a phone in their backpack, they will be able to play their favorite game in their free time, as long as they have access to high-speed internet.
However, it is worth thinking for a moment for whom the so-called cloud gaming is not made. It will certainly not be interested in professional players and customers who value one specific genre (e.g. FPS shooters).
Alternative to Xbox Cloud Gaming – what is GeForce NOW?
One of the most famous services in the field of cloud gaming is GeForce NOW, offered by the most popular manufacturer of PC graphics cards in the world – Nvidia. Unlike the Xbox service (which uses console versions to stream data), GeForce NOW relies entirely on streaming from PC hardware with a graphics card. The main feature of this service, however, is the ability to connect to external platforms through which players collect digital versions of games – Steam, Ubisoft Connect or Epic Games Store.
This means that in order to use GeForce NOW, you must have already purchased copies of the games on the platform of your choice. Each time you launch the application and the stream itself, the service will ask you for login details for the selected application.
A tempting aspect for some players is the availability of the free version. However, it has a number of limitations that make you invest in a paid subscription quite quickly: short sessions (up to 1 hour), low image resolution from the stream (maximum 720p), waiting queue (customers who pay have priority access to PC machines).
There are many other alternatives for Xbox Cloud Gaming in the form of cloud gaming apk and apps.
If we put light on the cloud gaming on smartphone devices then we can see there are many alternatives cloud gaming apk like Vortex cloud gaming, and Mogul cloud gaming mod apk.
Google service for gamers – what is Google Stadia?
Google creates the most popular search engine in the world, the most popular application with maps, a leading operating system for smartphones, as well as business applications such as Google Workspace. Is it equally good at gaming in the cloud? Opinions are divided here.
Although the company has been boldly taking steps in this industry for years, mixed feelings prevail among experienced players. The Stadia service was supposed to revolutionize the market and it actually did it because…. motivated its competitors to act.
At first glance, the operation of Stadia looks like a combination of Xbox Cloud functionality with GeForce NOW. On the one hand, it is a very good technology, thanks to which you can get acquainted with the concept of cloud gaming at a low price and high image quality. On the downside, players only get access to a few free games and the rest must be purchased from the official Stadia store. Importantly – these copies will only work in the Stadia service, which is certainly a worse solution than that of GeForce NOW, which "binds" libraries from other platforms together.
Which service to choose for cloud gaming?
The current cloud gaming market is growing rapidly. Two leading services – GeForce NOW and Xbox Cloud Gaming in Game Pass – tempt gamers with support for new games in their library every month.
This means that they can regularly return to their favorite titles in various circumstances and on smaller devices. What's more, with an old or office laptop today, you are not doomed to play old classics or simple games in the browser. Playing in the cloud makes sense!
Cloud gaming changes the expectations of customers and causes that – despite the volatile prices of equipment – they are becoming more and more mobile, while expecting constant improvements from the services. Therefore, choosing the right application requires some thought.
Also Read: Navigate to the closest grocery store – Google StreetView Accuracy
Grand Theft Auto 5 on Xbox Game Pass
The Xbox Cloud Gaming Pass enables you to play cloud-based games on the tablet of your choosing. At this time, we can't say for sure whether or not cloud gaming GTA 5 on mobile will actually happen.
Theft Auto V on Android
Even while smartphone manufacturers are always working to enhance their products, even the most recent models still can't reliably run the GTA 5 game. For Grand Theft Auto 5 to work properly on Android, we still need to make certain internal improvements.
I have no doubt that this will occur eventually, albeit it will probably not be anytime soon. There is also no word on when GTA 5 will be made available. The Grand Theft Auto V game cannot be installed on the majority of mobile devices due to a lack of space. However, adding more space for storage can fix the problem. Without the latest patches, Grand Theft Auto V is a massive 81GB.
Ram is also significant. While it's remarkable that cloud gaming GTA 5 free was able to run on 512MB RAM on the PlayStation 3, the RAM utilized by the PS3/X360 is considerably more efficient and faster than what phones use.