Features and Advantages of Tilt and Turn Windows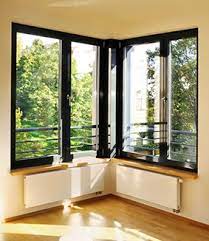 Tilt and turn windows assure excellent operability, design, safety, thermal performance, and durability. There are ample reasons to consider this door and window design for your house. 
Tilt Turn Doors And Window Design
Tilt and turn doors and windows have hinges on one side to open like a standard casement window, including a mechanism for the sash to tilt inwards. Such a type of door and window designs provide a clean look to the house with modern functionalities. 
Shiridi Sai Packers and Movers (SSPM) is most trusted and reputed moving solutions provider in Hyderabad offering packers and movers in hyderabad and transportation services within the reasonable price.
In this blog post, we'll explain the unique features and advantages of tilt and turn windows to help you decide how they are a good fit for your project. 
Flexible Ventilation
Tilt and turn windows allow you to maintain air circulation in two different ways. First, you can swing open the window for enhanced ventilation. Then, on the other hand, you can tilt the sash that creates a little vent for air circulation. Such flexible control over ventilation is one of the most critical design benefits of this door and window design. 
Ideal for All Types of Location and Climate 
Tilt and turn windows are excellent solutions for all types of climates. For instance, tilt and turn windows are often referred to as 'monsoon windows' for their ability to prevent water ingress while still maintaining air circulation. 
Air and Water Ingress Prevention

: High-end aluminium tilt and turn windows ensure complete sealing against water and air using rubber and nano-tech gaskets. A few manufacturers like TOSTEM even utilise a double drainage system so that even if the window is in a tilted position, the water will only drain outside. 

Wind Load Pressure

: Aluminium tilt and turn windows are sturdy, but the windows' performance as per Japanese Industrial Standards further improves functional benefits. For instance, JIS standards are known for evaluating the window performance against wind pressure. TOSTEM INDIA infuses JIS standards for designing and assurance tests, ensuring that aluminium tilt and turn windows can last against wind pressure of 800-2000 Pascals.

Heat Resistance and Sound Insulation

: TEXGUARD coated aluminium tilt and turn windows do not absorb heat. As a result, such aluminium windows are known for keeping the temperature stabilised indoors. On the other hand, quality tilt and turn windows are installed with EPDM gaskets, minimising the noise levels up to 25 Db. But, only TOSTEM INDIA provides such tilt and turn doors and windows. 
Optimal Natural Light
Tilt and turn windows composed of aluminium are sturdy, meaning the windows sport a minimalistic look with a sleek frame and narrow sightlines. Such an elegant look ensures maximum glass area for natural light to enter the house. 
Seamless Operability 
Aluminium is lightweight, meaning users of all ages can operate aluminium tilt and turn windows. On the other hand, TEXGUARD coated tilt and turn windows do not warp or expand, meaning you use the window in a tilted position or open it all the way. Furthermore, the L-fit handle that most high-end manufacturers utilise even further ensures ease of operation. 
Security and Safety
Aluminium tilt and turn windows are safe and secure. For instance, TOSTEM INDIA's tilt and turn windows utilise the crescent locking mechanism, which is sturdier and secure than a standard push lock. On the other hand, rubber gaskets in the products minimise the chances of finger pinching, making the windows safe for even children to operate.
Colour and Finish
Users can personalise aluminium tilt and turn doors and windows in terms of colours and finishes. For instance, you can choose from natural black, natural white, ivory white, ivory black, and more. But, you cannot achieve the same with UPVC windows, which are primarily white. Even though you can customise the colour, it is not advisable to do so as UPVC absorbs heat. 
Conclusion 
Tostem Tilt and turn windows designs are famous for their beauty and their functionality. The products are energy-efficient, cost-effective, high quality, and visually appealing. Employ the advantages and benefits outlined in the post to choose the correct tilt and turn window for your home.