Top 5 NSE Certification Course in Financial Markets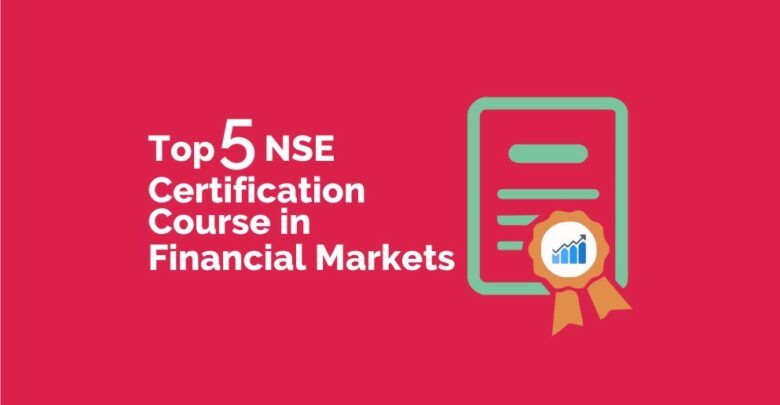 The stock market, as well as the e-learning sector, have emerged simultaneously over the few years that have helped many people to start learning about the stock market and also trading in it after gaining knowledge about the same.
Well, if you don't know about the Stock market then let us explain to you what it is all about. Stock Market is a medium through which the traders buy and sell the stocks of the companies. The movement of the stock prices is because of supply and demand as the buyers and sellers place orders for buying or selling.
You can acquire this knowledge from the short-term and long-term courses that are available online which also provide certificates.
These certification courses have been prepared by stock market experts and collaborated by the Indian Stock Market regulatory bodies like NSE (National Stock Exchange).
So, in this blog, we will discuss the top 5 stock market certificate courses that are offered by NSE, which can help you to gain knowledge about the stock market.
 1. Basics of the Stock Markets:
Everyone should begin their learning path about anything with the basics, and this holds true for learning about the stock market as well. As a novice in the stock market, you should build a solid foundation of every aspect of the stock market.
To build a strong base you can enroll yourself in certification courses on the basics of the stock market  that is learning about the essential topics like the basic capital market structure, functioning of the stock market, Fundamental Analysis, Technical Analysis, equity investing, mutual funds and so on
If you are a novice in the stock market, then you should start investing according to your financial goals on your own, this step is important.
But if you are not a novice and aware of a few aspects of the stock market and you are looking to build a career in the market then a course of the fundamentals is a great way to start their journey that also covers the basics of the financial markets. 
After you have learnt about the basics, it is time to study and start researching stocks in the stock market. There are two methods to do this – technical and fundamental analysis. We can learn about each of these with certificate courses.
 2. Technical Analysis:
Technical analysis refers to the analysis of historical data for forecasting future price movements and deciding what price to enter or exit the trade. If you want to trade using technical analysis then learning about the basics of technical analysis is important.
However, if you are planning to build your career as a full-time trader then you should know advanced technical strategies.
Some of the things that you should learn about technical analysis are Dow theories; Candlestick patterns; Indicators and oscillators; and popular trading strategies, etc.
But if you do a certification course then you can learn about these advanced tools and indicators with strategies as well. The certification courses also provide theoretical as well as practical knowledge to ace technical analysis.
 3. Fundamental Analysis:
For those who want to start investing in the financial market, then fundamental analysis is a useful skill. By studying fundamental analysis students can learn about the fundamental factors that can affect the long-term growth of investments.
They can also make informed decisions in which company to invest. For this, a course on fundamental analysis can help students in learning the practical applications of fundamental analysis tools.
It will help you to learn useful skills such as equity analysis, Industry analysis, corporate governance; and Evaluation of management, and so on.
 4. Options Trading:
If you want to hedge your equity portfolio when the market is down then you can participate in the derivatives market. Derivatives are financial instruments whose value is derived from an underlying security. One of the most popular derivatives tools are options but they're also very risky.
You should learn about Options terminologies, Open interest, options trading strategies; and Options Greeks, etc.
For this, you can take a certificate course, and one of these is NSE's Certification in Options Strategies. 
 5. Currencies and Commodities:
Other segments of the market are the currency and commodity markets. So, in order to trade in these markets successfully, you need to learn about these segments that include: How to trade in these segments; Types of derivatives involved and Macroeconomic factors involved, etc. Therefore, picking up a course for them is a great way to learn about the opportunities of these markets.
Bottomline:
Thus, we can conclude that with the help of valuable and recognized certifications, these courses are useful for all novice traders and investors in the market. One can use these stock market certification courses for satisfying any objective – whether it is learning about investment, or building a career in the stock market.