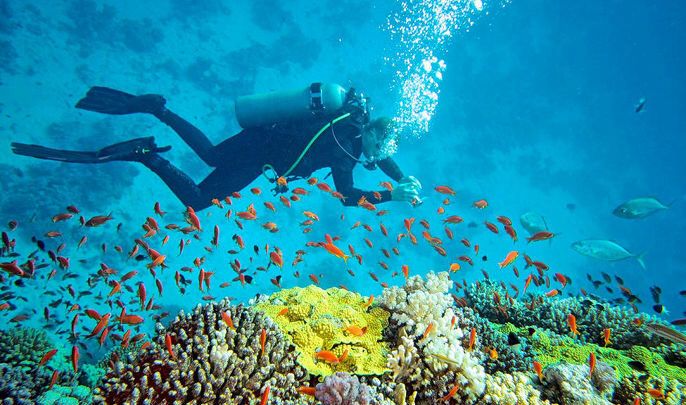 Overview:
There are many things to do in Andaman, including adventure sports, water activities, and sightseeing trips to Andaman. it also hosts an annual tourism festival that takes place in December-January. The islands are accessible from October to May. Andaman's waters are calm and clear, making them ideal for swimming, snorkeling, and other water sports.
These are the best activities in Andaman:
Parasailing
it  is a popular water sport in Andaman.it is a unique combination of airborne adventure and water. You will love it. You will be able to see the whole area from a new perspective thanks to a specially designed canopy. it  is a great way to have fun while visiting Andaman. Parasailing can be enjoyed for between 5-10 minutes.
Havelock Island
Havelock Island, one of Andaman's largest islands, has some of the most beautiful beaches. It is home to many Bengalis, who have lived here for a while. The tribals and aboriginals live in the other half of the island. You can enjoy a variety of activities on the island, including kayaking, sailing, trekking, scuba-diving and many more. You will feel a sense of heavenly bliss as you gaze upon the clear water and marvel at the beauty of the surrounding environment.
Scuba Diving
There are many things to do in Andaman. Scuba diving is one of the most popular and important activities. Only 36 of the 120 islands are habitable. The majority of spots in Andaman, however, are unaffected by human disturbance and offer stunning natural panoramas.
Andaman Dolphin Glass Bottom Boat
Dolphin Glass Bottom Boat is another popular activity in the Andaman Islands that allows you to experience the marine life. The best part is that everything will be as real as if it were in the ocean. This glass boat allows you to explore the vibrant coral reefs and other aquatic life.This is an extremely well-liked pastime in the Andaman Islands.. You will travel underwater at high speed thanks to the large windows. Enjoy this unique glass boat ride in Port Blair, and make your 60-minutes unforgettable.
Snorkelling
Snorkelling, another amazing way to discover the beautiful corals and aquatic life of The Bay of Bengal is also possible. Snorkeling in the clear waters off Andaman will allow you to see a variety of fishes and plant species. If you are in Andaman, this is a must-do activity.
Mangrove Kayaking at Mayabunder
Mangrove Kayaking in Mayabunder (Andaman) is another great activity that you shouldn't miss. Sea Kayaking is a popular activity in the Andaman Islands. This activity will last approximately 2.5 hours. As you glide through the greenery, listen to the birds singing and enjoy the peace. For those seeking peace, this is the perfect location.
Cellular Jail
One of Port Blair's most famous spots is the Cellular Jail. It tells the stories about the hardships that freedom fighters went through. The Cellular Jail has been declared the National Memorial. It is a must-see spot in Andaman. The Cellular Jail is a place where you can explore the history of Indian Independence. There are many paintings that highlight the history of Cellular Jail. There is also an English and Hindi light and sound program that describes the complete history of India's independence and provides scenarios.
Elephant Beach
The centre for activities such as snorkelling, deep-sea dive, and underwater seawalk is Elephant beach. It is part of Havelock Island. The azure water with vibrant coral lures tourists to try out a variety of activities, including jet skiing and banana boats. There are many food stalls on the beach, as well as locker cottages. It has both changing and washroom facilities. This place is often used by tourists.
Seaplane Ride
A seaplane ride in Andaman is one of the most popular activities. A seaplane flight in Andaman is an Amphibian Aircraft which offers stunning views of the Andaman Islands and Nicobar Island. A spectacular view can be had of several main islands in Andaman and Nicobar, including Port Blair (which is also the beginning point of the trip), Neil Island, Havelock Island and Long Island.