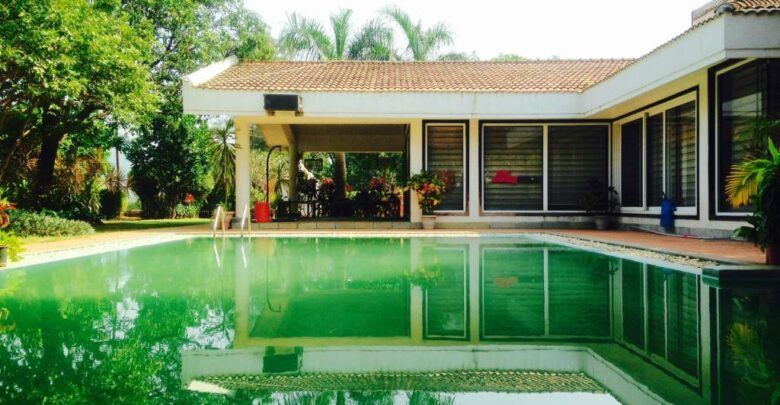 Lonavala, located in the Sahyadri range of the Western Ghats near Pune and Mumbai, is undoubtedly Maharashtra's most popular hill station and the place to go during the monsoon season. It is a popular camping, trekking, and other adventure sports destination because of the surrounding waterfalls, lakes, and mountains. It is a must-see for nature lovers since it is surrounded by lush forests, waterfalls, and a dam alongside lakes. Lonavala is one of two hill stations in the state of Maharashtra, the other being Khandala.
The Bhaja caverns, Bushi dam, Karla caves, Rajmachi fort, and Ryewood lake are among the most popular tourist attractions in Lonavala. Lonavala is also famous for its hikes. Ekostay luxury villas in Lonavala, spanning from affordable to Luxe categories, are the ideal staycation alternative if you like a peaceful and pleasant stay. A private pool, personal caretaker, BBQ and bonfire, and a big lawn are just a few of the benefits of living at Ekostay private villas.
Villas in Lonavala
HILL VIEW VILLA
As the name implies, the front facing side of Ekostay Hill View, a Luxury Villa in Lonavala boasts a lovely mountain view. A private pool surrounded by a breathtaking hill view and expansive outdoor area, with morning dew cleaning your feet as you stroll on the lawn, is designed to captivate your senses. You are welcome to come here with your family and friends, as well as your four-legged pets, and let your hair down.
Sky Villa
The Ekostay Sky Villa in Lonavala is a quiet sanctuary nestled away in the hills. Simple yet exquisite interiors with a tinge of luxury and an homage to old Bollywood are sure to grab your curiosity. Apart from the bustling throng of Lonavala, this 3 BHK Villa is the ideal setting in the highlands to make your stay unforgettable. Following their visit to Tiger Point, visitors may unwind by the private pool and have a full BBQ lunch with family and friends while taking in the spectacular views.
Casper villa
This 4BHK mansion amid the hills of Lonavala is the definition of serendipity. The Ekostay Casper Villa in Lonavala has everything you could possibly desire in a staycation. This luxury villa in Lonavala has its own private pool, a wide lawn, and every room in the villa has a view of the valleys and hills of Lonavala. So unwind in the most beautiful setting with your loved ones by having a dip in the pool surrounded by lush flora or engaging in outdoor activities.
Octagon Farm Villa
The Ekostay Octagon Farm Villas in Lonavala are a stunning 8-bedroom villa with a private pool that is excellent for lounging in the mornings. Its understated furnishings are well lighted, brightening the space, and the on-site horse stable is only one of the extra attractions for animal lovers. With its lovely green panoramas, friendly ambiance, and calm surroundings, this is a perfect destination for a weekend getaway with family and friends.
BLANCO VILLA
The Ekostay Blanco Villa in Lonavala is the ideal getaway for Mumbai residents, and it appears like it came straight out of a design magazine. Amidst lush flora, modern decor, and plenty of outdoors are just a few of the features that make this three-bedroom home in Lonavala stand out.
Karjat is a popular weekend getaway location near Mumbai. Karjat, located near the Ulhas River, is well-known for its beautiful scenery, large mountains, antiquity caverns, temples, and forts. Hikers are familiar with this quaint and picturesque hamlet. Karjat is a tranquil and beautiful place that is a popular tourist destination. Karjat's pleasant weather and breathtaking scenery create an ideal backdrop for guests to spend their weekends with great fun and satisfaction. Karjat is also famous for its adventure activities, including as waterfall climbing, rock climbing, trekking, and river rafting.
You may embark on various treks in Karjat, including treks to Peth fort and Sendai Fort, and the greatest thing about these treks is the breathtaking views of lush green meadows and sceneries that you can see from them. The views from the hills' tops are breathtaking. During the rainy season, the entire landscape becomes more appealing and lush with greenery. This is a fantastic place for a first-time or inexperienced rapper. You may even luxuriate in the waterfall's magnificence. Sliding down the waterfall and taking a shower beneath it may be an enthralling experience.
Villas in Karjat
Nest Villa
Nest villas in Karjat, a premium Portuguese home with a minimalist style, flashes of colour, and modern furnishings, will take you to a professional feel. It exudes elegance, serenity, and a nice spirit. The home has three bedrooms, a beautiful pool, and a well-lit pool deck. Because it is an EKO STAY villa, guests may be confident in the quality and service of their stay.
Eclipse Villa
Eclipse Villa in Karjat is the ideal location for you to live out your fantasy holiday. The 3 BHK Villa, with its beautiful décor and own pool, is the ideal area to unwind or simply take in the breathtaking views from every point of our homestay.
Simba villa
Simba villa's basic structure, amazing colour, and modern style will take you to a serene condition. It conveys elegance, tranquillity, and a cheerful spirit. The property has three bedrooms, a private pool, and a breathtaking view of the surrounding hills and lush greenery.
The villas provide everything you need for a relaxing and enjoyable stay. Caretakers are on duty 24 hours a day, seven days a week to assist guests in any way they can. Ekostay offers villas in Karjat with pools for a relaxing dip, as well as large lawns and outdoor furniture to relax and enjoy the breathtaking views with your loved ones. All Ekostay villas for rent in Karjat also provide barbecue services. Karjat are all pet-friendly, so bring your furry little pals along for a brief tranquil stroll in the Karjat hills. So, plan a quick weekend getaway and let your hair down in one of our gorgeous Karjat villas for rent at affordable rates.
lonavala villa on rent,private pool villa in lonavala,lonavala villa booking,villas on rent in karjat