The Strategic Guide to B2B Demand Generation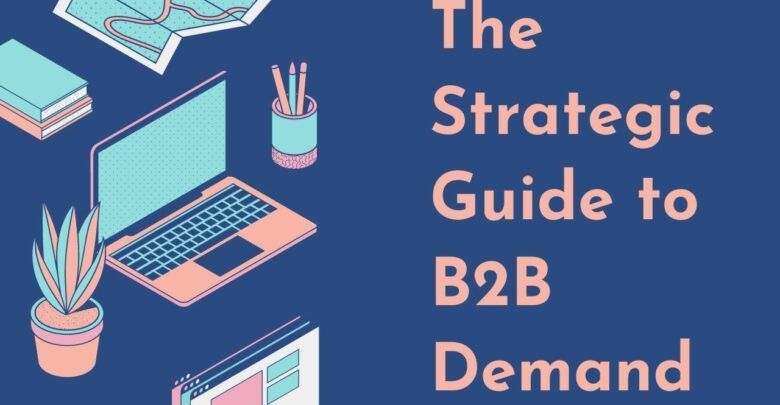 B2B Demand Generation is a multi-pronged approach that goes beyond its simplistic nomenclature. It doesn't just constitute the linear generation of demand. Demand Generation entails a bevy of marketing activities aimed at solidifying your brand perception and industrial authority. In the present, expeditious digital age, demand generation is all the more important. It helps in streamlining your content marketing, ensuring that the right content reaches the right audience at the right time. It also breaches any potential gaps or lack of coordination between your sales and marketing teams. A strong focus on the buyer persona ensures that B2B marketing resources are being streamlined in the right direction.
Understanding its Primary Objectives
For B2B marketers, the primary objectives of a B2B demand generation campaign are:-
Capturing the attention of your target market segments based on your business ICP (Ideal Client Profile)

Educating prospective leads about their problem points

Tactically engaging them and subsequently invoking demand

Positioning your brand as a strong contender, putting forth your offerings as the solution to their problems

Generating leads and nurturing them down the sales funnel

Ensuring positive after-sales communication for repeat sales and long-term associations
How is B2B Demand Generation different from B2C Marketing?
The primary difference is that the B2C marketing format is short and swift. It aims at closing the deal and making the sale immediately. B2B marketing however doesn't work with the same urgency. Since it involves businesses collaborating with other businesses, there are sustained efforts to build trust and foster a long-term association. Showcasing your expertise, trustworthiness, and flexibility are vital requirements. On the whole, B2B demand generation is a long-term campaign to position your business as a reliable partner.
How to Tailor the Right Demand Generation Campaign for your B2B Business?
A successful B2B Demand Generation Campaign includes the following steps:-
Define your Marketing Objectives
Always chalk out your B2B marketing objectives at length. Also demarcate your budget in the very beginning so that you don't go overboard later. Ponder over these points:-
Expected ROI from the campaign

Number of clients you aspire to target

Estimated time from the top to the bottom of your sales funnel
Establish your Ideal Client Profile
Especially in the Covid-19 era, there is no room for wavering. Squandering efforts on clients who are never likely to convert is highly unjustified. Always concentrate your demand generation campaign and B2B lead generation efforts towards the right client persona.
Determine your Lead Magnets
What kind of free resources are you willing to share in exchange for prospective clients' information? These freebies are known as 'lead-magnets' in the demand generation lingo. This could be a well-researched e-book, a trial-run of your service, free attendance to an insightful webinar, and so on. Remember, this has to be of immense value for potential leads to be interested and share their details.
Stage-Wise Content Creation
For each phase of the sales funnel, customized content needs to be created as follows:-
Beginning Phase: Pushy selling at the very outset will be detrimental to your interests. Create and share content that is highly informative, and subtly raised demand by analyzing business issues.

Middle Phase- Once you have managed to capture attention and garnered some leads, the next step is to create brand-positive content. Highlight your experience and expertise as a B2B business. 

End Phase- As clients are nurtured further downwards, creating sales-inducing content to clinch the deal is important. Communicate to them about limited period offers, successful collaborations with existing clients, and so on. Whatever you can do to give the final nudge towards conversion, put forth in your communication.
In addition to all of these, periodic tracking of relevant metrics and KPIs is necessary. Only then can you gauge the success of your campaign and course-correct if required mid-way.
To Sum Up
As a B2B marketer, one often feels inclined to straightaway pursue B2B lead generation activities for immediate sales. But it is important to understand that a sustained demand generation campaign is necessary to ensure steady flow of leads. In the absence of sufficient demand for your offerings, all your frontline marketing efforts will prove to be futile. Immediate acquisition of clients might seem alluring, but one needs to see the bigger picture. Cementing your business credibility, invoking client awareness, and nurturing the eventual demand is the best approach for B2B marketing.