Sunny Deol's Powerful Comeback: 5 Compelling Reasons to Watch Gadar 2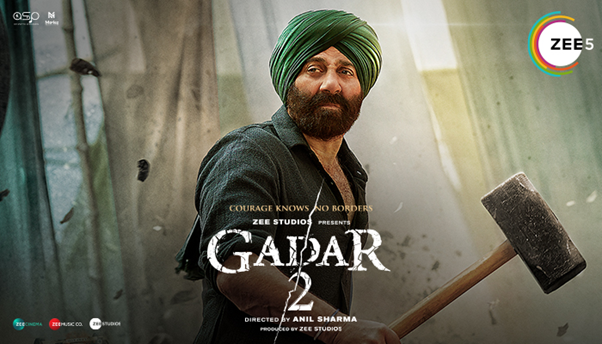 Hey there, movie buffs! If you're on the lookout for a film that stirs your emotions, gets your heart racing, and leaves you cheering for the underdog, then Gadar 2 is the one for you. In 2001, Anil Sharma came with Gadar Ek Prem Katha which shook the film industry. Now, more than two decades later, Anil Sharma has once again created havoc at the box office with Gadar 2. If you missed watching it in the theaters or simply prefer watching films from the comfort of your home, ZEE5 Global has got you covered.
ZEE5 has acquired the digital streaming rights of Gadar 2. After an outstanding run at the theaters, this cinematic gem will now be available to stream on ZEE5 Global starting October 6, 2023. Let's take a look at 5 reasons why you shouldn't miss this cinematic ride:
The Legendary Saga Continues
The film seamlessly picks up where the first one left off. Sunny Deol steps back into the shoes of Tara Singh, the character we all fell in love with. Meanwhile, Ameesha Patel and Utkarsh Sharma also reprise their roles as Sakeena and Charanjeet. As the film presents a new chapter in Tara, Sakeena, and Jeete's life, viewers will be hit with a wave of nostalgia.
Stellar Performances
Get ready to see some top-notch performances. Sunny Deol is as energetic as ever in his role as Tara Singh. Ameesha Patel as Sakeena adds depth and heart to the story. Meanwhile, Utkarsh Sharma strikes a balance between duty and family in his role as Jeete. The on-screen chemistry between all these characters is a delight to watch.
Action that Keeps You on the Edge
Hold onto your seats because this Sunny Deol starrer packs a punch with its action sequences. From intense border face-offs to heart-stopping escapes, this film has it all. You'll be rooting for Tara Singh every step of the way.
Family, Sacrifice, and Loyalty
Gadar 2 is all about family bonds. On one side, Jeete is determined to find his father. On the other hand, Tara leaves no stone unturned to rescue his son. With emotions floating around, this film will surely tug at your heartstrings.
A Visual Treat with a Powerful Message
Beyond its emotional depth, the film also has great visuals. It beautifully captures the characters' journey and immerses the viewer in the film.
Get ready for a roller-coaster of emotions and action. This film promises to leave you moved and cheering for the triumph of the human spirit. So, clear your schedules, grab your popcorn, and get ready for a ride with Tara Singh and his family that will have you on the edge of your seat.
How To Watch Gadar 2 Online?
Here's how you can watch this nostalgia-driven film online on ZEE5:
Download the ZEE5 app on your smart device or go to the ZEE5 website.
Create an account and or login to your existing ZEE5 account.
Search for the movie on ZEE5 Global.
Once the movie page is displayed, click on the movie.
Now select your desired video quality and start streaming.