Some Of The Best Carrier ACs That You Can Shop Online
Some Of The Best Carrier ACs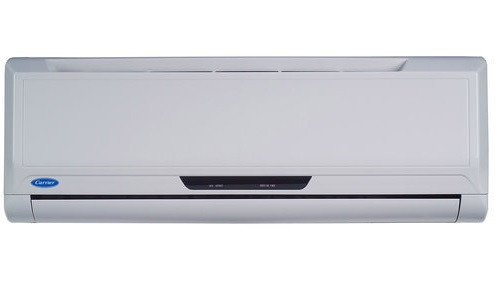 Some Of The Best Carrier ACs That You Can Shop Online
With summers approaching, air conditioners are the need of the hour. Let us take you through some of the best options from Carrier available online. To help you escape the sweltering heat that is to follow in the coming months, Carrier has brought to you a number of different options to make your summers cool and comfortable. Here are some of the best Carrier air conditioners you can purchase either for your home, or your office.
Carrier 1.5 Ton 5 Star Inverter Emperia Nxi Split AC
This is a classic 1.5 ton air conditioner from Carrier. Powered by the Flexicool Hybridjet technology, this Carrier air conditioner has a number of operating modes for various kinds of weather conditions. You can have the AC working at its full cooling capacity on a day when there is scorching heat, while on a more pleasant day; the AC can run on its 50% capacity. This is highly user-friendly, and can help you save a lot on your electricity bills. The air conditioner does not require a stabilizer to function, meaning it can even provide optimum cooling at low voltages of 195 volts.
Carrier 2.5 Ton 3 Star Superia Xtreme Mega Split AC
Another great model by Carrier, the Superia Xtreme Mega Split AC is built for tropical countries like India. The modern design of the AC helps elevate the look of the entire room while efficiently cooling it.
This 2.5 ton AC can easily cool down even bigger rooms like your living room which is often around 150 to 250 square feet. You can also save your preferences for temperature and operation modes with 'My Mode' feature for quick access to your level of comfort.
Carrier 1 Ton 5 Star Inverter Ester Nxi Split AC
Painted in a classic shade of white, this 1 Ton AC price is around Rs. 52,990. It comes with a 4 in 1 cooling mode to optimize the cooling capacity for the different weather conditions. You can also use the additional Insta Kool feature to get immediate relief inside a hot room.
The condenser is completely made of copper, which is ideal for minimizing your power consumption. The air conditioner also comes equipped with a PM 2.5 dust filter that makes sure to keep your room pollutant-free.
Also Read: Tundra Gray Tile – A Great Choice For Your Home
Carrier 1 Ton 3 Star DuraFresh Nxi Split AC
This 1 ton Carrier air conditioner is a great investment to get rid of all the heat in your room this summer. Ideally designed for tropical places, the AC works wonders even when the external temperature is as high as 52℃. There is no requirement of an external stabilizer even when the voltage fluctuates to 150 volts. With a 3-star energy rating, it assures a good combination of low power consumption and high efficiency
Carrier 1.5 Ton 3 Star Emperia Nxi Split AC
This 1.5 ton air conditioner is possibly the best addition to your bedroom this summer. Its capacity is ideal for average-sized rooms. The Sleep Mode is a boon that can give you a peaceful night's sleep. It decreases the temperature of the room by 1℃ for the first two hours and then keeps it steady for the rest of the night, before finally switching off.
The 'Follow Me' feature also works optimally to provide you targeted cooling wherever you are inside the room. This is made possible by the sensor that is planted into your remote control that determines the ambient temperature of a small part inside your room.
This summer, bring home the AC of your choice from the Bajaj Finserv EMI Store. This EMI-only store hosts a number of products from trusted companies across the globe, and delivers to your doorstep within just 24 hours of placing the order. You can also avail exciting offers and hard-to-resist discounts.
Explore a Wide Variety of AC based on their Types or Models at the Bajaj Finserv EMI Store. Choose an AC that suits you the best, and pay with peace of mind in monthly no-cost EMIs later.