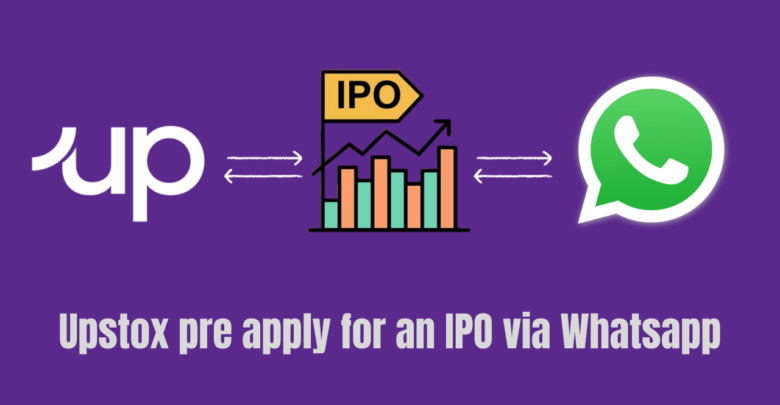 Rajkotupdates.news : upstox pre apply for an ipo via whatsapp. Upstox will now facilitate investors to invest in IPOs and open demat accounts via WhatsApp.
upstox will provide full support for the IPO via WhatsApp, simplifying the account opening process for customers.
Upstox's customer base increased by approximately 1 million in October, 2021, taking its total customer base to over 7 million. The company aims to reach 10 million customers by the end of the financial year 2021-22.
Customers can message through Upstox's verified WhatsApp number +91 93212 61102.
These services are open to all registered users of upstox and non-registered users having accounts with other brokers. But keep in mind that don't upload any document on WhatsApp and don't send any document as an attachment on chat.
The new key feature is that investors, whether registered on upstox or not, can invest in any IPO without leaving the WhatsApp chat window at any stage during the entire application process.
Easy, fast and accessible way to Demat account in upstox via WhatsApp .
Steps to invest in IPO with upstox via WhatsApp
Step 1: Message 'Hi' to this WhatsApp number +91 93212 61102 for IPO application and click on 'IPO' – You will be asked to 'OPEN AN ACCOUNT' or 'IPO' – Select 'IPO'
Step 2: Confirm your number by selecting 'Yes, Proceed' or click on 'No, Change no' if you want to change your number.
Step 3: Now verify by entering the 6-digit OTP sent to your number
Step 4: Click on 'Apply for IPO'.
Step 5: Click on 'Select IPO'.
Step 6: Select the IPO you want to apply for.
Step 7: Details of the selected IPO will be displayed. And there will be 2 options 'Apply now' and if you want to see other IPO then select 'View Other IPO' – 'Apply now'
Step 8: Now you will be asked to enter the price at which you want to place your bid. We recommend bidding at the cut-off price as any bid below the cut-off price is unlikely to get an allotment if the IPO is oversubscribed.
Also Read: Rajkotupdates.news: Air India having processed over 2.5 lakh cases of ticket refunds
Step 9: Now select how many lots you want to apply for between 1-9 from the list. If you want to select more than 9 lots then click on 'More' and specify the maximum lot from the given range.
Step 10: You will now see a summary of your bid details. To proceed, select 'Continue' or 'Change Bid' if you want to change something
Step 11: Next, you will need to enter your UPI ID
Step 12: Select 'Accept and Proceed' to submit your IPO application or 'Decline' if you change your mind and don't want to apply for IPO.
Step 13: Now you can check your application status anytime from WhatsApp chat.