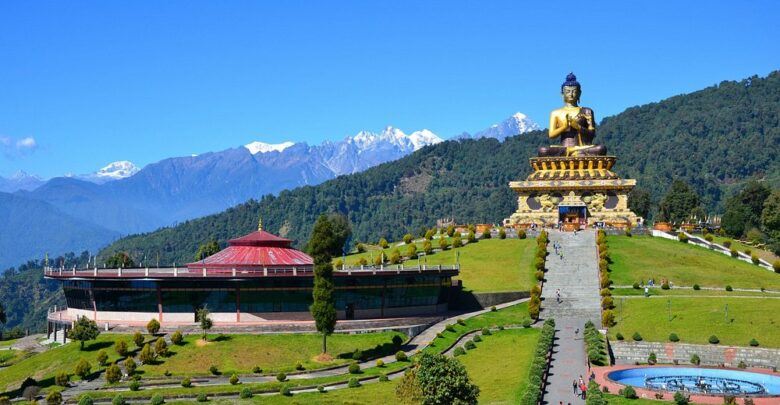 Sikkim is one of the most beautiful states in India. It is a state surrounded by mountains and plains. Sikkim has the third highest mountain peak in the world, but do you know everything about Sikkim? Not sure, let us tell you 15 special things about Sikkim.
When did Sikkim become a part of India: India got independence in 1947, while Sikkim kept the identity of a separate country till 1974. In 1975, the Prime Minister of Sikkim requested the Indian Parliament that it wants to become a part of India, and the necessary steps for this should be taken. Finally, on 16 May 1975, Sikkim became the 22nd state of India.
The abundance of people of Nepali origin: Sikkim is the only state in India where the local people are native to a different country. Yes, most of the people living in Sikkim are of Nepali origin.
International Flower Festival: International flower festival is organized every year in the month of March to May in Sikkim. In this small state, 600 types of flowers are found, which are 240 kinds of trees and plants. Sikkim is naturally one of the most prosperous states in India.
Birds' Paradise: Sikkim is a paradise for birds. In Sikkim, 552 species of birds are found, 690 species of moths. At the same time, Himalayan vultures have their own unique identity.
Bhum Chu: Bhum Chu is the holy water of Sikkim, from which people are sanctified. People are consecrated by Bhum Chu in the Tashiding Buddhist Monastery. This is an old tradition here.
Chang: Chang is the local liquor here, which is drunk on special occasions. This wine is made from bamboo.
Natural Spaw: Sikkim has an abundance of hot water sources, in which you can refresh yourself by taking a bath. Which Sikkim is always cold, it is a matter of great relief.
Thanka Painting: Thanka painting in the local art of Sikkim, which is associated with Buddhist culture. It depicts the victory of good over evils.
Baba Harbhajan Singh's Temple: In Sikkim, there are thousands and lakhs of temples and monasteries, but human worship is done here only by Baba Harbhajan. Baba Harbhajan is known as the hero of Nathula, who kept his life at bay and kept the Chinese alive, and saved the lives of many soldiers.
SiddheshwarDham: There is a 108-fit tall statue of Lord Shiva on the Solofolk hill near Namchi. This temple is one of the major tourist centers of Sikkim. This temple of Sikkim is considered to be one of the 12 Jyotirlingas of Lord Shiva.
Rumtek Buddhist Monastery: There is a magnificent Buddhist monastery at Rumtek, 23 km from Gangtok. Where the statue of Gyalwa Karmapa is installed.
Ministry of Religious Sites: Sikkim is the only state in India, where temples, mosques, churches, and gurdwaras are maintained by a separate ministry. This ministry is responsible for the maintenance of about 200 religious places. Language: the Nepali language is spoken in abundance in Sikkim. The official language is English. Not only this, many local languages ​​are spoken in Sikkim. There are a lot of people in Sikkim who speak Hindi as well.
Danny Denzongpa: Who doesn't know Danny Denzongpa. He is the one who has created a vibrancy in the people due to his strong voice. Danny has done more than 150 films in Bollywood, Hollywood, Bangla, and Nepali cinema till now.
The cleanest state award in 2010-11 under Clean India: Cleanliness is the responsibility of everyone in Sikkim. Sikkim has received the cleanest state award from the Government of India in the year 2010-11.