How To Use A Smart Lock: A Step-by-Step Guide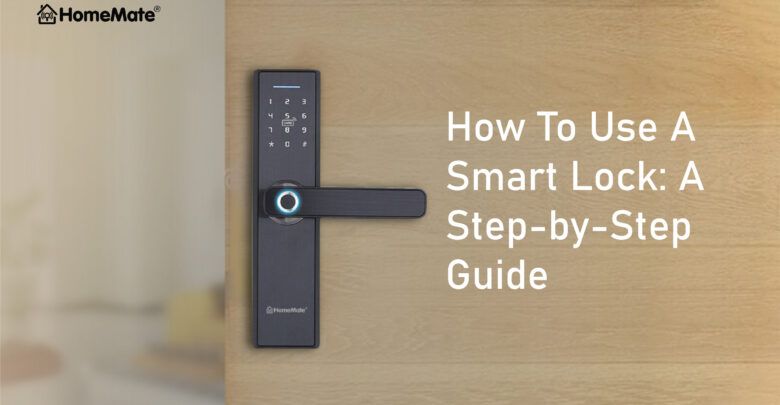 Smart locks have brought a great revolution in today's era. The world is growing at a steady speed with the help of technology and innovation. The addition of the smart lock to your place makes it look modern, elegant, and attractive. Moreover, the usage is quite convenient for your near dear ones. Unlike traditional locks that require physical keys, smart locks use technology to grant you access to your home. They can be controlled through a connected gadget or voice command or even a key fob. In case you are planning to change the locks of your place then it's wise to choose smart locks.
HomeMate is one of the leading brands in the world of innovation and technology. The smart lock system created by HomeMate is a keyless entry system, which makes accessibility easier and more convenient for users. It can be controlled remotely through an app, and can also be programmed to grant access to specific individuals at certain times. It further comes with a key. The lock is easy to install and provides added security and convenience for homeowners.
Here Are The Step-by-step Guide on how to use Smart Locks
Go through the steps below to know the working of smart locks.
Step 1: Choose the Right Smart Lock
When choosing the smart lock, it's better to choose the right one which can fulfil all your needs. Though numerous types of smart locks are available in the market, choosing the right one is a big decision. Each company provides different features and specifications to fulfil the needs of the customer and make their product unique. HomeMate offers a remarkable frame of Smart Lock For Home, which makes them easy and convenient for the users to operate them. You can open or shut the door with a fingerprint, passcode, voice command, smart app and at last a key.
Step 2: Install Your Smart Lock
After choosing the right door lock, it's crucial to check its installation procedures. Installation of the Smart Lock of each brand varies. Therefore, while doing the installation, it's important to read and follow the instructions carefully. HomeMate provides a smart door sensor and a smart lock that is easy and quick to install.
Step 3: Connect Your Smart Lock to Your Home Network
Once you have installed your Digital Door Lock, you can connect it to your home network. You can link your lock via an application or web-based portal given by the manufacturer. As you are connected to your home network, it's easy and flexible for you to operate your home security system from anywhere.
Step 4: Set Up Your Access Codes
With the installation of Smart Lock on your property, you may have enormous benefits from operating it. Your door can be operated from anywhere. Moreover, for opening and closing the door, all you need is an access code or fingerprint, or voice command to operate it. HomeMate offers Fingerprint Door Lock, which can be operated through the mobile application, voice command, or fingerprint.
Step 5: Test Your Smart Lock
Before you finish your installation, it is crucial to check your security system. Moreover, relying on any brand for home security is a tedious task. Therefore, it's crucial to test the Smart Door Lock. You can test your smart lock with the following things
Does your smart lock store the data of the fingerprint
Is it possible to operate your door with the voice command
Is it possible to open and lock the door with the passcode
And much more
Testing of a lock plays a crucial role. Moreover, checking the battery life of the lock may vary. Battery life depends upon the usage.
Step 6: Use Your Smart Lock
As soon as you have installed and tested your Smart Locks, ensure your home is safe and secure. Operating your door lock with the voice command, fingerprint, access code, and key makes it convenient for the homeowner. Many of the Smart Locks have a remarkable feature of recording the access and a built-in camera, which can be operated through a single tap on the mobile phone.
HomeMate Wifi Fingerprint Smart Door Lock
HomeMate lock has a special feature that makes them different from other smart locks
You can access the lock through 5 various patterns. You can unlock your door via fingerprint, password, RFID card, connected gadget, and with the key.
It can store around 100 fingerprints and 3 passcodes
You will get a notification on your connected mobile phone regarding the accessibility
HomeMate smart locks can be operated from anywhere in the world
It has weatherproof functioning.
In case of any emergency, like a power cut or battery not working then also, has an emergency backup.
Conclusion
Smart Lock has made life flexible for every individual. With the installation of the smart home security system, one can be relaxed and stay calm with his lifestyle. By following the above-mentioned steps to fulfil the needs of your home, you can access it at your own pace. HomeMate offers a range of smart security system that makes your house modern, unique, and convenient to use. So if you are looking for Smart Lock, HomeMate is the best option to choose.  Click here for more!