Benefits Of Macadamia For Skin
Benefits Of Macadamia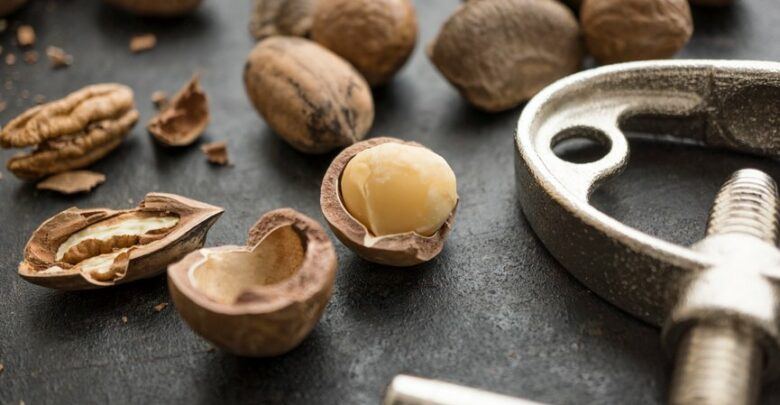 Macadamia has been gaining quite some popularity due to its oil being used in cooking, hair and beauty treatments now more than ever. Unlike coconut oil, macadamia oil is a clear, light yellow liquid at room temperature that is usually used in its pure form. Macadamia is loaded with nutrients, potassium and fatty acids and the concentration of palmitoleic acid makes it a popular ingredient in cosmetic products which is found in face creams, hair masks, skin lotions, etc. Here are some of the benefits of macadamia that you should know of.
It reduces itchiness and rash: Macadamia contains phytosterols which help in bringing down the inflammation. The oil that is derived from macadamia is rich in omega-3 and omega-6 fatty acids that aids sensitive skin and reduces itchiness and rashes. It also has the ability to ease out skin conditions like eczema and psoriasis.
It repairs stretch marks and scars: Macadamia for skin is highly beneficial for the ones who have stretch marks and scars. This natural ingredient can heal chapped skin and repairs scars as it contains high levels of oleic, linoleic and palmitoleic acid. The oil that we get from macadamia helps nourish the skin and works as a great moisturiser as well.
It prevents premature wrinkles: If you're someone who's experiencing premature fine lines and wrinkles, you should use a product with macadamia as it contains a rare antioxidant called squalene that helps prevent premature formation of such lines. It does this by shooting up the regeneration of skin keratinocytes. Macadamia oil can benefit baby skin, mature skin and even dry skin – hence it is used in eye creams, lips balms and skin lotions as it has excellent levels of hydration.
It heals chapped lips: Macadamia can effectively reduce inflammation in wounds or sores, hence it is quite an ingredient that is used in various cosmetic products including sunscreen, lipsticks, lip balms, skin conditioners, etc. You can even make a natural lip balm using macadamia oil and beeswax. It hydrates chapped lips and can noticeably change the appearance and health of your lips.
It has a natural fragrance: Macadamia is extremely hydrating and has a natural fragrance which is why it can be used in a

perfume mist

too. One such product is the Pure Sense Macadamia Soothing Body Mist which has a long-lasting aromatic blend with a warm and subtle fragrance that will instantly uplift your mood. This body mist is a nourishing elixir that pampers your skin by satiating its quench of moisture with just a single spritz. It is crafted with pure ingredients sourced from nature that leave your skin nourished and senses relaxed.
Macadamia isn't just beneficial for the skin but also for your hair. Here are some of the benefits of macadamia for hair.
It tames frizzy and dry hair: Macadamia contains fatty acids that add moisture to your hair. This works wonders for dry and frizzy hair as macadamia oil is light in weight and non-greasy too. The moisturisation that this oil provides to your hair can transform your lifeless hair into fresh and healthy-looking hair.
It regenerates scalp skin and keeps it hydrated: Macadamia can constructively regularise the oil production of the scalp, which keeps the scalp and hair hydrated at all times. The oil that is derived from macadamia nuts contains linoleic acid that helps restore skin barrier function, while oleic acid regenerates scalp skin, softens it my moisturisation and nourishment. Macadamia is used to powerfully boost the overall health of your hair from the root to the ends.