Asian Clothe That Will Attract You
By Libas e Jamila
Background
At the first sight, without knowing ethnicity, clothing and appearance is the first representation of any men or women. Asian people have some distinctive characteristics and trends regarding dressing and they tend to maintain their traditional styles particular in cultural and religious events like eid, holly, karwachot etc. For instance, various South Asian countries like India, Pakistan, Nepal, Bhutan, Sri Lanka and Bangladesh are diverse in terms of spoken language, social structure, religion, cuisines, technology etc. but somehow, they share same cultural values. In the 11th century, after the conquest of Mahmoud Ghaznavi, the trade between India and East Asia had started. Although at that time, western clothing was considered most comfortable type of clothing but in trade, Asian clothing records highly indicated style of the world. Asian clothing styles has changed time by time. In Pakistan, shalwaar kameez became the national dress of the country and they still guard their separate identity as compare to other countries. Many women in Pakistan prefer to wear burqa while going outside. Women magazines, dramas, and Bollywood industry had greatly influenced the way of women's thinking about their dressing style and enabled them to design their own dresses. This culture started before 1980's when boutiques and brands came in the hands of small fashion designers.
People in Pakistan and India are well known about their traditional and colorful dresses. This is the significant distinction of these cultures and patriots really loved their culture so much. Besides this fact, some Pakistanis and Indians are living in abroad such as UK and deeply immerse themselves into western culture, but they always prefer to wear traditional and Asian clothing on different occasions such as on wedding functions, religious events, parties, and Eid.
Types of Asian clothes
Shalwar kameez is a traditional Asian dress that comes with dopatta. The shalwaar is pajama like trouser that comes in various shapes and styles. Someone's prefers to wear loose shalwaar but someone's prefer to wear tight. Kameez is a long shirt varying in different styles of sleeves and length of shirt. Shalwaar kameez became the national dress of Pakistan which is used by both men and women in different styles such as Sindhi, Balochi and Pashtun styles.
Sharara dress also known as Gharara, Ghagra, or Choli. Basically, it's a 3-piece dress with Sharara, shirt, and dopatta. There are two types of shirts with Sharara, long shirt till the knees and lower shirts above the knees. Sharara dresses are mostly liked by younger women. Mostly, women prefer to wear trendy, pretty, and fashionable traditional dresses on different occasions such as weddings, parties, dholak, and mehndi. In 90's, mostly women used to wear Sharara at their homes but now its use is limited to the special occasions only.
Saree is a traditional Asian clothing of Pakistan, India, and Bangladesh. Saree is a single piece of unstitched fabric which is 9 meter long. There are more than 100 ways to carry a Saree. Moreover, use of varying styles of saree is also dependent on the varying cultures. For instance, in India, mostly brides like to wear saree while in Pakistan lehna choli is in trend.  Saree dresses comes in variety of fabrics like silk, chiffon, cotton, etc. which is prefer by woman's on different occasions that make them elegant and unique.
Asian clothing in UK
In this modern age of social networking, it is very easy to influence others by using fashion trends and styles. United Kingdom is known as a multicultural nation with the people of different ethnicities and cultures. In some areas of UK, huge population belongs to India and Pakistan. Either it's a wedding ceremony or any religious occasion, Asian women always prefer to wear their traditional dresses. So, you could find many stores, boutiques, and outlets for Asian clothes UK.
As there are many Pakistani and Indian people in UK, who rarely visit their home countries, it's really hard for them to look for Asian brands/ designers for getting dresses. Birmingham is famous for its world class shopping center and there are many Asian clothe shops in Birmingham, like Libas e Jamila, Omsara Asian clothing center, Memsaab clothing store, Asian Fashion Blog, La couture Asian clothing and Mahams collection etc. Although, they have wide range of Indian and Pakistani collections and you can choose dress of your own choice and color but the easiest and most convenient way of shopping is online shopping particularly in the situation of global pandemic. It is time-saving and can be done from anywhere and anytime.  
Libas e Jamila
Libas e Jamila is one the best and well known online shopping centre of Asian clothing in UK. You can find variety of Indian and Pakistani dresses there. They provide unstitched and stitched designer clothes of both countries. If you are looking for a casual dresses such as shalwaar kameez, women's Kurtis and kid's collections, Libase Jamila is the right website that you are looking for in a very competitive prices. You can also find party wear dresses for different occasions such as Sharara dresses, saree, and anarkali dresses. They have focused on building trust among their online buyers because many websites do not provide what they show and lose their buyers trust.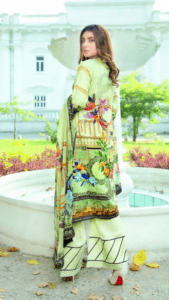 Libas e Jamila has very unique and latest collection in shalwaar kameez and dopatta. The color combination and the georgette fabric they used is incredible. So, if you are living in UK and looking for some comfortable Asian clothes than hurry up and grab your favorite outfit from the store. Their main purpose is to make woman feel more comfortable, confident, and elegant.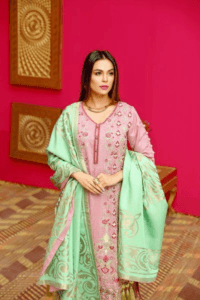 They also provide designer suit with Banarsi dopatta. Basically, this is the specialty of Indian region. Generally, a typical Banarsi dopatta has golden or silver embroidery/ thread touch as you can see in the above picture. Moreover, these Banarsi dopattas are trending now in Pakistan as well. Mostly women used to wear this type of fabric outfits on eid or small party functions. If you are looking for best Banarsi dress than Libase jamila is the best option. They have some amazing collection of silk and georgette suit with gorgeous Banarsi dopattas. They don't compromise on their fabric quality and prices are quite reasonable.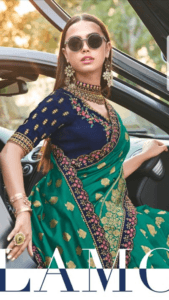 You can also find saree designs that comes in different fabrics and in gorgeous colors. Not only they provide the latest collections of saree but also provide the most gorgeous latest blouse designs. So, when we talk about their fabric quality, their colors, and designs everything will blow your mind. Libas e Jamila is one of the best online shop in UK so this is the golden opportunity for the people who lives there. I am sure they will not disappoint.