A Comprehensive Guide to Bandhani Saree.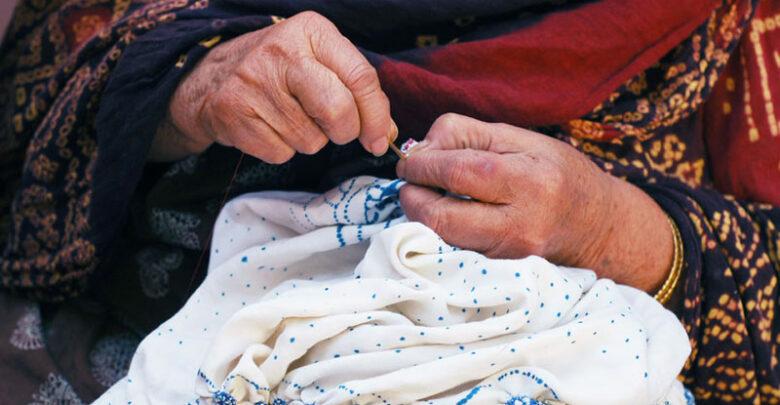 The popular term Bandhani/Badani originated from the Hindi/Sanskrit language long ago. Bandhani is "tying" to tie, and bandhej is a variation of this word commonly used at the place of bandhani. 
Bandari is a traditional "tie and dye art technique of forming different patterns or dots on the fabric. You can find them only in the northern part of the country or with some authentic online bandhej saree sellers with so much popularity. 
Bandhej/bandhani is made with a unique process, and all the work is done handmade by the local artisans. Under this process, the cloth is being tired and submerged in a colourful die to form a beautiful pattern. 
Such a beautiful process entails working for two communities and has been done in two different stages. 
Stage 1 – The women community does the Tying of the cloth. 
Stage 2– The dyers are males from the Khatri community, forming different patterns and designs. 
Once completed, the remarkable bandhani/bandhej form different motifs or patterns over a suitable fabric with the colour combination that varies from region to region. After this, you can find them in local shops and on the online store of bandhani bandhej saree. 
How Old is the Bandhani/ Bandhej Technique, and where is it used?
The foundation way back to the Indus valley civilization to 4000 B.C. On the other side, some discovery at Ajanta caves has also found reference of these sarees. 
The whole procedure of the bandhani technique is handmade, and Gujarat and Rajasthan are associated with these techniques. The famous bandhani/bandhej saree symbolizes auspiciousness and is worn mainly at sacred events, and some ladies also love wearing them at weddings and birth anniversaries. 
The bandhani/bandhej artwork is not restricted to the saree only. This pattern is also found in various apparel such as suits, ghagra, shawl, stoles, turbans, western silhouettes, and many more. 
What Material, Dye and Colour are used in the Bandhej Saree? 
For bandhani/bandhej print, a white cloth is taken as the base on which every work is done. 
With thick cotton cords, a cloth is tied. There are various methods to tie the fabric, depending on the design you apply to it. 
A mixture of red and green colours is used, called the geru solution. The solution is mixed in the water with large utensils, which help the fabric to soak into the die correctly. Once it gets dry, these bandhej sarees are finally available to your nearest shop or Online Bandhani Saree store. 
Nowadays, most people use industrial dye, which usually fades after certain washes. Back in the day, natural dyes were used, extracted from the pulp of fruits and vegetables. Another natural die colour was indigo which was used heavily at that time.
A Descriptive Guide of Buying Bandhej Saree Online in India? 
The best part of the bandhani saree is that you can wear them any day. It is not necessary to wear them at any unique occasion or ceremony, and whether it is any classical event at your workplace, you can comfortably drape and flaunt it. 
To get the best authentic bandhej saree, visit different parts of Gujarat or Rajasthan. Most of the people in these areas have access to bandhej saree quickly.
Don't worry for those who live far or do not have access to the Bandhej/bandhani saree. We got you covered. You can buy best Online Bandhej Saree from kutchibazaar.com. 
Kutchi Bazzar is an e-commerce marketplace specializing in selling handcrafted Indian Ethnic Wear for women. They deal with Bandhani/Bandhej, Ajrak, Batik, Shibori art.
You can find an endless online bandhej bandhani saree design without any hassle at a reasonable price. 
Experienced artisans craft everything by hand. By looking at it, you can quickly figure out whether it is original or not. 
Kutchi bazaar's vision is to bridge the local artisans and the end consumer. It works on a concept to showcase kutch's handcrafted Indian Ethnic Wear for women art to the world. 
Frequently Asked Question 
Ques. 1 Which states are famous for Bandhej/Bandhani saree in India? 
Answer- The parts of Gujarat and Rajasthan are famous for Bandhej/bandhani saree work in India. 
Ques. 2 What is the difference between bandhej and bandhani? 
Answer- Both the words originated from the Sanskrit language, which means to tie. The terms bandhej and bandhani are used interchangeably with each other. 
Ques. 3 What material does Bandhani/bandhej saree uses? 
Answer- A white fabric works as a base for any bandhej works, which is tied with dye depending upon the different designs. 
Ques. 4 Is it safe to buy an online bandhani saree? 
Answers- Yes, it is safe to purchase bandhani bandhej saree online in India. Always look for the origination of manufacturers or artisans. You can buy authentic handcrafted Online Bandhani saree from kutchibazzar.com.