9 Science-Backed Secret Tips That Smart Men Use To Look Younger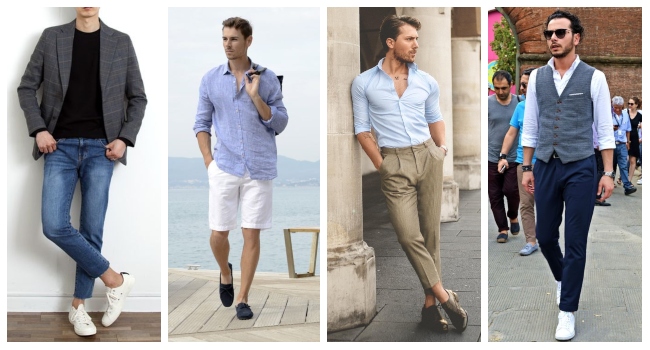 Don't you wish to know what makes a man look exquisite and young despite just wearing sleeveless t-shirts? With the strike of first signs of aging, it is obvious that you want to know how to reverse the process. After all, if any man around- similar to your age- looks better than you, it definitely kills you from inside.
But what is that good reason that doesn't make those men look outdated version but always stylish despite they fall in the same age bracket? You feel clueless, right! Even though you taught yourself and tried your best things, but in the end, nothing seems to fall together with perfection the way you want it to be.
It's no surprise that such situations only bring a drastic drop in your confidence, and at last, no option remains other than acceptance. But wait! Before you make a decision in haste, try out these magical tips because instead of losing hopes, it's better to keep trying and achieve your goal.
1. First Do Something With Those Grey Hairs
Those grey hairs should be on the top of your priority list. Artificial colors aren't needed! They only seek a nice haircut and some adjustment with the volume to help you get back your dapper look. Excellent grooming may work better as well. You just need to adopt some alternative style strategies that meet your desires.
Those bottles for hair won't bring back that dropping youth; experiment with your hair as much as possible and develop the best style that suffices your personality. Hair colors are never worth it; they only give a highlighted black shade over your head and showcase a fake look.
2. Tame Your Beard
Facial hair may refine the details of your face. You can hide those annoying signs of aging by using this simple magic trick. Don't use too long beard; keep it functional and well-suited with your facial expressions.
Choose a classic beard style to let those hairs cover the aging signs on your face like a boss. Don't get overwhelmed; else, you won't be able to get the perfect look. Embrace the styles that perfectly merge with the features of your face.
3. Rebuild Your Wardrobe
Once you are done with your grooming essentials, dive into your wardrobe. Keep what can be tried, and throw away what doesn't suit best in your life. A closet that gives you the best suggestion and the perfect style recommendation for daily fashion is always worth it rather than a wardrobe getting cluttered with useless clothes.
Stop seeing all those clothes as a part of your daily outfit. They only make you look ugly, so don't expect anything. If possible, add more statement pieces to your wardrobe. Hit a necessary shopping for men's clothing website and pick the best-suited outfit that complements your style.
4. Try A T-Shirt
Try a plain t-shirt or catchy printed tee for the perfect summer look. A casual tee is meant to offer you ultimate comfort while adding a vibe to your look. Play with the hues and pair with the best fashion ensembles. Such as, you can try a striped tee with casual denim and a jacket for an optional touch.
Don't get too much over-involved in t-shirt fashion; just keep it simple and let the outfit minimally look more graceful. Spot the errors and observe the differences. In the end, you will undoubtedly come up with a pleasant style.
5. Invest Time & Money On Your Body
Never let that outfit decide what suits best on you, instead become a decision-maker and choose your own style. Focus more on your fitness. Invest time in exercising and keep the body in perfect shape. As you grow older, the hormonal changes may bring imbalance in your body.
Hence, it all depends upon your choice. Do nothing if you want to look ugly after a few years, or at least follow a daily exercise routine to ensure your body stays fit and ready-to-try any outfit with ease.
6. Go Cool In Boxers Shorts
Boxer shorts for men aren't just limited to the men in young age brackets. Instead, 50+ men aren't far from embracing this style. You can try a professional or business look in boxer shorts. Just need to pair that printed or plain shirt nicely with formal style shorts, and you are all set for that perfect evening plan with family and friends.
On a sunny day, this look will highlight your dignified men's style. It's alright if you prefer to tuck the shirt or t-shirt in your shorts. It's up to your preference. Which style you want to carry will come out with more perfection if you find comfort in it.
7. Kick Out Those Bad Habits
If you want to look younger than other people in your age bracket, then avoid your bad habits as soon as possible. However, it is often recommended to stop alcohol and tobacco consumption to prevent aging issues before time.
But it isn't just limited to these essential things, because when it comes to style that reverse ages, you should consider avoiding some basic habits that 40+ men often make. These include-
Still like those square toe dress shoes
Trousers too long
Dress shirt too baggy
Jacket sleeves are too long.
Too many undone shirt buttons
Buttoning jacket buttons
Tie too wide
Avoid these habits as soon as you wish to reverse your age cycle with some styles.
8. Stop Being Unique! Try Natural Hues
As much as possible, stay away from overdoing. Keeping everything in a well-balanced form should be your top priority. Else, everything will turn out to be irritating. Your style itself will appear unique. Once you picked out a dress, embrace your body and facial features with perfection.
 Don't fall in love with the outfit that your friend was wearing at a wedding! Don't find those attractive outlets on a blazing showroom the best statement piece for you! Instead, look into your personal swag. What suits best on you, go with that and discover a new you.
9. Focus More On Detailing
Focus on detailing. Don't let anything go bland. After pairing the best jean, pants with a t-shirt or shirt, switch your attention to the detailing. Notice that wristwatch, and choose loafers instead of sport or pointy shoes to add a younger hue in your style.
Remark the detailing of your hairstyle and facial expression; it will lead to a striking appeal in your overall appearance. Let those bold shades come out from you and see a remarkable difference.
The Last Trip
There is no need to cover those arms; try a sleeveless t-shirt, and even recommend it to your boy or friend. The trend of those outdated outfits has already died a quiet death. Even though you are a daddy of two or more, just make a smart move and prove to everyone that you can still look hot and handsome. Also, don't forget to understand the Game of Contrast. Those grey hairs don't seek any treatment, just create your own 40+ style and find the best version of yourself. Visit bewakoof.com for more advice on fashion for men.