12 Reasons Why having a Business email Is Important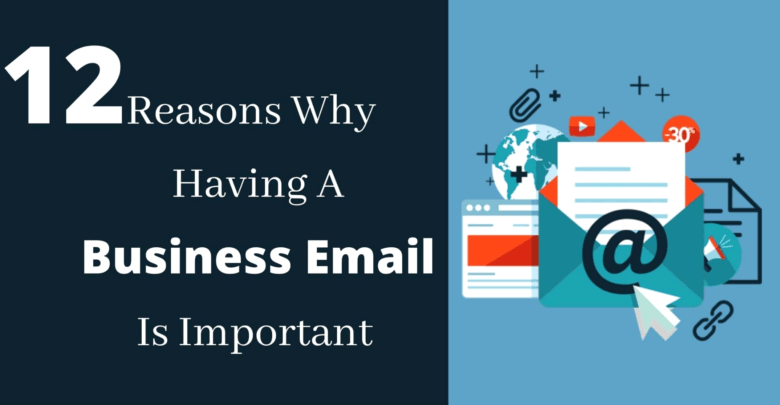 Below are some of the most important reasons why having a Business Email is so important for your business
Reason #1 – To Maintain a Professional Image
In the eyes of your customers, a professional email address establishes credibility. A custom email address based on your company name will undoubtedly project a more positive and professional image of yourself. Free business email accounts, on the other hand, are more likely to send your emails to your clients' spam folders. As a result, it is strongly advised that you choose a custom email address for your professional id.
Reason #2 – To Build Credibility and Trust
The professional image you project with a professional email address will instill trust in your clients' minds. Your name, as represented by your business email address of @businessname.com, will not lead your customers to believe it is spam or just another promotional email.
Reason #3 – More Flexibility and Control
To enhance remarkable flexibility and control, a business email address can be provided to each vertical of a company. Sales, marketing, HR, and other departments can all have their business email addresses.
Reason #4 – To Promote Brand Awareness
A company email address is the most important and underappreciated component of any marketing plan. A custom email address makes it easier for your customers and target audience to recognize you, which improves your company's brand image and brand awareness.
Reason #5 – Backup is Important
Email marketing software can assist you in backing up and syncing your data at regular intervals to a safe and secure internet storage location. As a result, there are more of these free business email addresses available.
Reason #6 – To ensure that security and privacy are not affected
A branded email account, also known as a custom email address, has a lower risk of leaking confidential information, and its conversations are limited to your company's email community. Furthermore, your company email addresses would never get up in your consumers' spam boxes.
Reason #7 – To lessen the chance of getting labeled as spam
Spammers commonly use free professional email addresses, which are generally regarded as suspect. The majority of free business email addresses are automatically filtered and forwarded to the recipients' garbage and spam mailboxes.
Reason #8 – To categorize email according to its intended use and development
As previously stated, designating distinct business emails to distinct verticals or divisions of your company gives your company credibility.
Reason #9 – Cost-Effective and Affordable
Email marketing solutions, such as business email marketing, have a high impact on performance while being relatively inexpensive. In today's digital age, corporate email marketing is on the rise and getting better results than other traditional marketing methods.
Reason #10 – Easy and Economical to Measure
Using business emails to implement an email marketing plan allows you to quickly track who opens your emails, which emails are ignored, how many emails are unread, which CTAs are clicked, and what type of audience clicks through various types of emails more.
Reason #11 – Simple to Personalize and Customize
Using your company email address to undertake segmented and custom email marketing tactics allows you to send more custom and custom emails to your readers.
Reason #12 – To Collaborate Effectively with Your Team
A professional email account comes with extra capabilities like shared calendars, documents, sheets, and other tools that make it easier to work and coordinate with your colleagues.
Conclusion
Investing in custom email address services will elevate the image of your company to new heights. It will increase your brand's legitimacy, trust, confidence, and recognizability among your customers. This can assist you to raise brand awareness and create effective email marketing methods in the long run. Checkout Ideastack for more information on their Business email hosting services