Top benefits of choosing BJMC as your career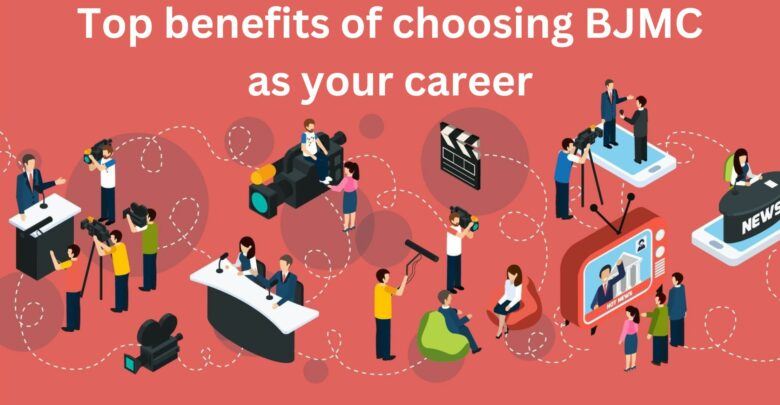 Communication and technology are at the centre of human existence in the 21st century. Journalism and mass communication has a huge role to play in such a state where information and news can get misinterpreted easily. Besides, pursuing a career in the media industry also provides a channel to express your creativity and thoughts which is a great thing in this busy world.
BJMC course is a three-year program that helps you develop theoretical and practical knowledge and teaches you essential skills such as communication, networking, time management, teamwork, etc. A career in this field also gives you the freedom to travel and explore various cultures and opportunities.
So, what are the benefits of choosing journalism and mass communication as your career?
Opportunities and growth prospects
Completing a journalism and mass communication degree opens the door to a myriad of career opportunities in different sectors. If you have the right skills and are well-versed in a language, particularly English, you can find lucrative job roles.
Some of the popular career prospects after perusing BJMC (Bachelor of Journalism and Mass Communication) course are reporter, editor, proof-reader, public relations officer, video editor, content writer, copywriter, etc.
You could start from entry-level positions and move on to become senior professionals with years of experience. For example, you can start working as a sub-editor in any newspaper or magazine and later go on to become the chief editor.
Lucrative pay scale
Just like there are ample opportunities in the media and communication industry, most jobs offer competitive salaries and benefits to employees. Due to the constant progress in the field because of the rise of online media and journalism, there is a high demand for skilled professionals.
According to Glassdoor, the average starting salary for a journalist is Rs 30,000/- per month. Depending on the location and industry this could even go higher. With each year of added experience, it can go beyond Rs 100,000/- per month.
Networking opportunities
Networking is a transferable skill that is highly valued across every industry in the world. It is one of the most important skills and necessities for working in the media industry.
As a part of the job, you will have to interact with people from different niches and regions. Be it interviews or features, these are all opportunities to get to know people closer. Establishing good relations and keeping in touch with people will help you grow both personally and professionally.
Travel and explore
One of the many perks of working in this industry is that you will get opportunities to travel and explore different places. Most often reporters are required to travel to different places when something important happens or as part of doing featured articles.
Rather than sitting in the office for fixed hours, it gives you a breath of fresh air and allows you to work in hybrid and flexible environments. Besides, you can grow from the experiences you get as part of travelling and meeting new people.
All these make journalism and mass communication a career worth pursuing. So, grab your seats for a BJMC course today.
This article is written by Anu Augustine.