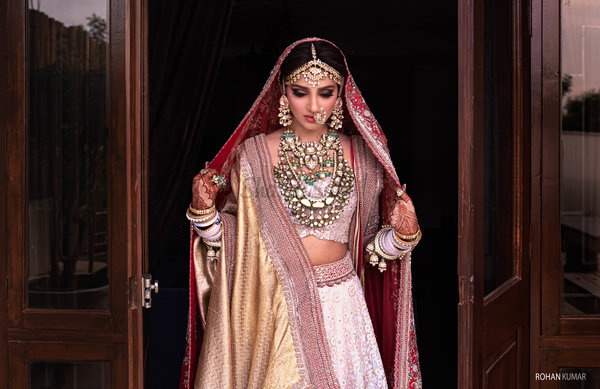 Trousseau, a French word holds great importance for every bride. A wedding trousseau is a vital part of wedding preparation from the girl's end as a collection of all the daily use and important possessions. People are adopting new practices and trends; however, the concept of wedding trousseau remains the same even in modern weddings, but with different essence. With the wedding fever in the air, here's a modern version of what an ideal wedding trousseau should have for every Indian bride. 
Must-Have Things for Every Bride-To-Be
Indian Attires 
Indian weddings are full of energy and fun with a lot of traditions and rituals. Hence it is important to keep space for traditional dresses like saree and suits in your wedding trousseau. Indian households love to see the new brides in Indian dresses and there are a lot of customs that she has to be part of even after the marriage. Hence while packing for clothes to carry to your new home, don't forget to shop for ethnic. Delisa Indian Wedding Wear has the best collection of traditional wear that will bring out the true diva in you. You can shop for your wedding trousseau online from them for different occasions and rituals. 
Make-Up Collection 
Getting ready after marriage is another challenge a new bride faces. Hence before you get hitched, stock up all your favorite make-up products that you would need every day. Create a collection of all types of make-up products that you would need from party look to everyday wear and don't forget to carry your go-to perfume so that you can also smell good along with looking good. Get your hands on the make-up product of Wet and Wild which is a trusted beauty destination for all beauty lovers catering to 4 major categories- Eyes, Lips, Face, and Nails. 
Hair Styling Tools 
As much as the brides pay attention to getting dolled up on their big day, the same implies looking good post-wedding. While preparing your wedding trousseau, don't forget to include Hair Styling Tools to style your hair and look different every day. If you are a hair styling enthusiast and want to plan your hairstyle as per your look-book then you should go for a hair styler that is extensively designed to deliver more than one hairstyle. VEGA K-Glam 3-in-1 Hair Styler is one product that you certainly need to have in your trousseau. With one hair styler, you can get three different hairstyles- straighten, crimp, and curl Hair. It comes with Keratin-Infused Ceramic Coated Plates, 5 adjustable temperature settings and heat protective covers.
Matching Footwear 
Post-wedding, one thing that is very common in Indian culture is welcome dinner for the new couple. This means you might have to visit your extended families and relatives every other day. For every bride who's on the move, comfortable yet stylish pairs of footwear are important both ethnic and western. You can mix and match your footwear collection with the dresses you pack and rock your overall look. Get hold of TEVA Female Footwear Collection which is an authentic brand for everyday footwear fashion as well as for special occasions. 
Hand Bags 
Hand Bags are not mere accessories but legit a woman's whole world that she carries with her. It's an everyday essential that a woman carries along with her to work, outings, or while traveling. Likewise, for a new bride, handbags play a dual role of a style statement as well as an essential thing to carry while stepping out. Dasein Women Handbags are a unique combination of chick and classic vibes and make the woman feel confident while carrying her handbags both professionally and personally. 
Hence, we have made things simple by putting together all the essential things that you are going to need in your new phase of life as a bride this wedding season!